Covid-19-Update
24 hours ultimatum given to untraced Tabligh Jamaat participants to report or face action-Punjab health dept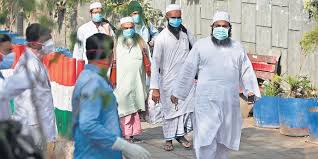 24 hours ultimatum given to untraced Tabligh Jamaat participants to report or face action-Punjab health dept
Kanwar Inder Singh/ royalpatiala.in/ Chandigarh
Punjab Health Department on Wednesday gave a 24-hour deadline to all Tabligh Jamaat (TJ) participants of the Delhi Nizamuddin Markaz event, who were hiding out in the state, to report to the nearest police station, or else face criminal prosecution.
Disclosing this here today, a spokesperson of the department said all those who had attended the TJ event at Nizamuddin Markaz and were currently in Punjab should report and appear for Covid-19 screening within the next 24 hours.
Of the 467 Tabligh Jamaat workers who had reportedly come to Punjab from Nizamuddin, police had so far traced 445 participants, with 22 yet to be tracked. Samples had been collected and tested for 350 of those traced, and of these, 12 had been found positive and 111 negative. The results for the remaining 227 were awaited, said the spokesperson.
While taking care of the sensitivity of the issue, the remaining TJ participants have been asked to come out for testing and join hands with the Punjab Government to eliminate this disease from the country. The spokesperson cited reports that the Markaz of TJ had emerged as a hotspot of Covid-19 positive patients, with subsequent confirmation of mimatum any positive cases among TJ workers.
24 hours ultimatum given to untraced Tabligh Jamaat participants to report or face action-Punjab health dept.It may be recalled that the Union Ministry of Home Affairs has already issued an advisory on March 28 and, in its continuation, reiterated its directions to all the Chief Secretaries/Advisors to Administrators of all States/UTs and DGPs in this regard on April 4.
April,7,2020