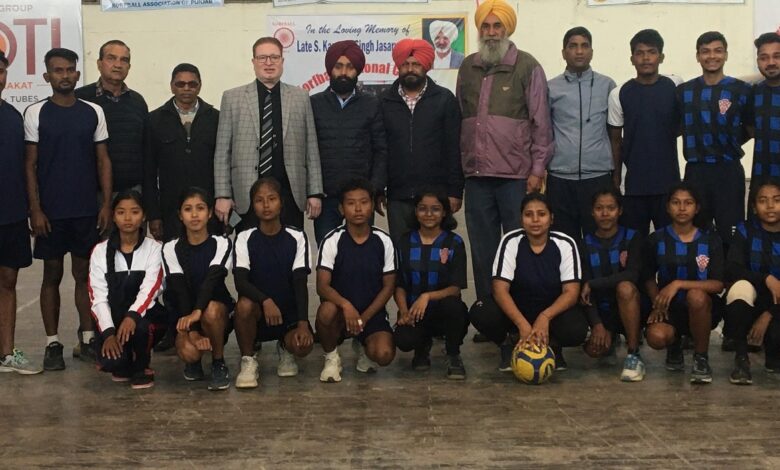 33rd National Korfball Senior National Championship begins at Patiala
Kanwar Inder Singh/ royalpatiala.in
The 33rd National korfball Senior National Championship was inaugurated on 26th Dec., 2021, at the Indoor Stadium of Polo Ground, Patiala.
Dr. SP Singh Oberoi was the Chief Guest.  The opening match was played between Punjab and Pondicherry which Punjab won 14-3.  On this occasion the chief guest paid heartfelt tributes to Karamjit Singh Jasarwalia and recalled his dedication and contribution towards sports.
Bikramjit Singh Brar, President, korfball Association of Punjab assured that he is committed for the promotion and development of korfball and would always extend all possible support for the development of Korfball .  He thanked the chief guest.  Secretary  Pradeep Kumar Topple thanked the President  Bikramjit Singh Brar and said that it was not possible to organize this competition without his cooperation.   Himanshu Mishra, President, Korfball Federation of India was also present on the occasion.  He lauded the efforts of Korfball Association of Punjab and congratulated them for a successful tournament.  A colorful cultural program was also presented by the North Zone Cultural Center on this occasion.  Dr SPS Oberoi announced Rs. 1.25 lakh for Korfball Association and Rs. 500 for each of 500 players participating in championship.
Present on the occasion were Dr. Dayinder Singh Sidhu, Rajesh Dhiman, Virender Singh Brar, Dr. Kamaldeep Singh, Dr. Janak Raj, Ankit Sidana, Vishal Nanda, TS Sandhu, Maj Rajpreet Singh, Harjinder Singh Saran, Inspector Preetinder Singh, Jasdeep Singh, Jaspreet Singh, Balwinder Singh Jassal, Dr. Amarpreet Singh, Harjinder Singh Jinder, Taranjit Singh Daisy , Shubham .
Today 27th dec 2021, the second day of the 33rd Senior National Korfball organised by the Korfball association of Punjab, in the morning session very first match was played between the host Punjab and Kerela. This match was played with full zeal and the host had won by 9: 4.  The second match was played between Jammu and Assam in which Jammu won the match by huge margin 9: 0. Jammu score 9 whereas Assam team was unable to convert the score. The third match was played between Telengana and Delhi in which Telengaga defeated Assam by huge margin 15:2. The fourth match was played between West Bengal vs Karnataka in which West Bengal defeated Karnataka by 8: 6 goals. In the next match Uttarakhand defeated Assam from 5:0 goals.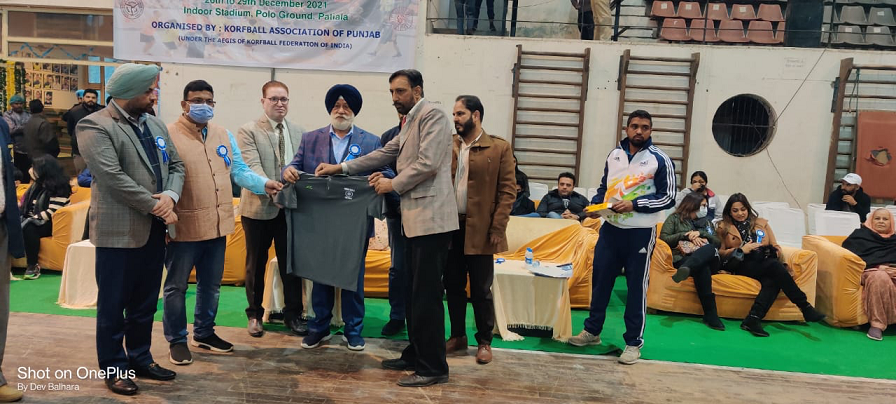 The chief guest of the session was Retd. SSP Patiala  Gurinderjeet Singh, accompanied by Prof . Jagdev singh sidhu professor Physical education Mohindra college Patiala, Olympian Dr. Tarlok singh sandhu,  Pardeep Kumar secretary Korfall association of Punjab, Retd. Major Rajpreet singh aulakh, Dr. Amarpreet Singh,  Jasdeep singh, Dr. Jaspreet singh, Pof. Amandeep kaur, Prof. Balwinder singh, and  Rajinder Singh. Today total 28 matches were played for the first round of league matches.
In the evening session last match was played between Punjab vs Maharastra and the result was draw, both the teams had scored 7 each. While this match was draw still Punjab team has qualified for quarterfinals along with Kerala from there pool.
December 27,2021