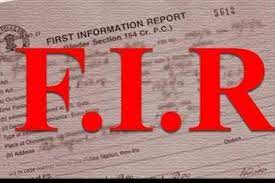 AAP founding member booked by Punjab police for leveling allegations against Arvind Kejriwal
Bahadurjeet Singh /Rupnagar
Rupnagar police has booked noted poet and one of the Aam Aadmi Party(AAP) founding members Kumar Vishwas    and former AAP MLA  and congress leader Alka Lamba for his allegations just before Assembly elections in Punjab that  Delhi CM Arvind Kejriwal had links with separatists.
A case under section  153 (Wantonly giving provocation with intent to cause riot) , 153-A (Promoting enmity between different groups on grounds of religion, race, place of birth, residence, language, etc., and doing acts prejudicial to maintenance of harmony), 505 (Whoever makes, publishes or circulates any statement or report containing rumour or alarming news with intent to create or promote, or which is likely to create or promote, on grounds of religion, race, place of birth, residence, language, caste or community or any other ground whatsoever, feelings of enmity, hatred) , 505 (2) , 116  read with section  143 (Whoever is a member of an unlawful assembly), 147 (Whoever is guilty of rioting, ), 323 (Punishment for voluntarily causing hurt) , 341(Punishment for wrongful restraint), 120-B (Whoever is a party to a criminal conspiracy to commit an offence) of IPC and 125 Representation of Peoples Act (Promoting enmity between classes in connection with election) has been registered at Rupnagar Sadar Police Station, on April 12,2022  against Vishwas on a  complaint of some person, whose name police declined to disclose.
Superintendent of police Harbir Singh Atwal said, said that the complainant had reported that when he was roaming in the villages along with his Aam Admi Party supporters for grievance redressal of the people, some unknown masked men stopped them and called them Khalistani. Similar incidents have been regularly occurring. All this started after  Kumar Vishwas gave inflammatory statements against AAP convener  Arvind Kejriwal on news channels/ social media platforms alleging AAP links with separatist elements.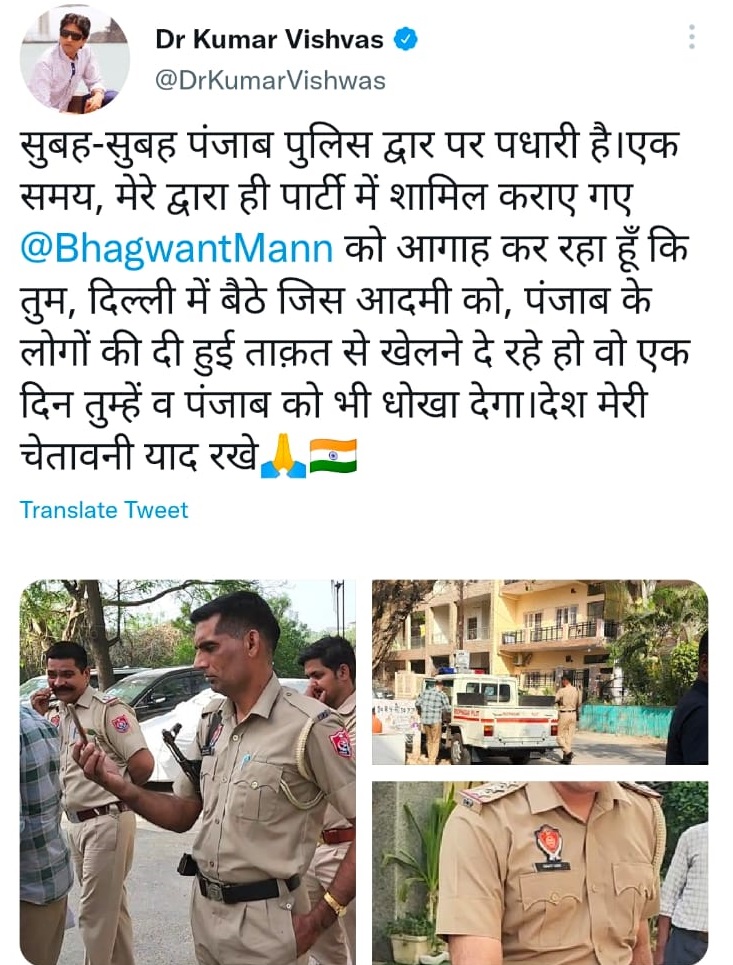 As a result  of these statements and videos, the peaceful atmosphere of the state of Punjab is likely to be disturbed. As a part of the investigation notice has been served upon Kumar Vishwas to produce whatever evidence he has to support his allegations. The matter is being investigated as per facts and  law,police said.
It may be mentioned that a video had gone  viral before the Punjab assembly elections in which Kumar Vishwas was heard recalling his conversation with Arvind Kejriwal.
AAP founding member booked by Punjab police for leveling allegations against Arvind Kejriwal. In the video Kumar Viswas purportedly said without naming Kejriwal that "One day, he told me he would either become CM (of Punjab) or first PM of an independent nation (Khalistan)".
It may be mentioned that Rupnagar police had reached the house of Kumar Vishwas at Gazhiabad Wednesday morning and served a notice to join the investigation on April 26,2022. Vishwas had also tweeted in this regard along with photos of Punjab police personnel.
April 20,2022