Punjab
Aggressively tap social media platforms for information dissemination: Anindita Mitra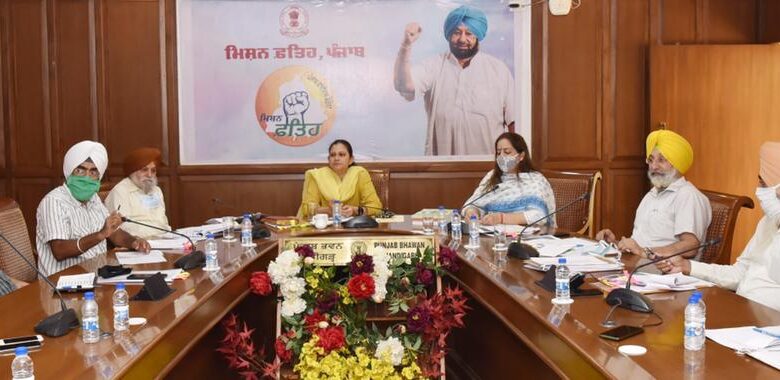 Aggressively tap social media platforms for information dissemination: Anindita Mitra
Kanwar Inder Singh/ royalpatiala.in
The Department of Information and Public Relations should make maximum use of social media, the media of the new age, to spread the awareness about public welfare schemes run by the State Government, directed Anindita Mitra IAS Director Information and Public Relations Department, Punjab during a meeting with the officers of the department at Punjab Bhawan,here today.
Mitra said that the Information and Public Relations Department acts as a bridge between the government and the people by highlighting the public welfare schemes, policies, important decisions and initatives taken by the government in public interest. Mostly, the information sharing is through the newspapers, TV and radio. But now, in the wake revolutionary change in information/communication technology, the department of Public Relations should aggressively tap the social media platforms, said she. " Today, more people are online than ever. Major chunk of population is actively using social media platforms. So, to ensure quick, direct reach into maximum households aggressively tap social media platforms for information dissemination, " said Mitra.
She also directed the officers of the department to give regular feedback on the problems faced by public so that it may be suitably escalated to the concerned departments for earliest redressal.
She informed that 100 LFDs highlighting various pro-public policies and achievements of State Government would be installed at prominent places, by the end of August.
In the meanwhile, Additional Secretary Information and Public Relations, Dr Senu Duggal, IAS, reiterated that it is inevitable for PR Department to tap social media channels to communicate with the public in a valuable and meaningful way. She also appreciated the efforts of officials of Public Relations during COVID19 crisis in disseminating the instructions and advisories issued by the government from time to time to deal with the epidemic.
Prominent among others who attended the meeting included Additional Director Opinder Singh Lamba, Joint Director Ajit Kanwal Singh Hamdard, Joint Director Randeep Singh Ahluwalia, Joint Director Harjit Singh Grewal, Deputy Director P.S. Kalra, Deputy Director Ishwinder Singh Grewal, DCFA Gagandeep Bassi and all the District Public Relations Officers and Public Relations Officers posted at the Head Office.
August 11,2021