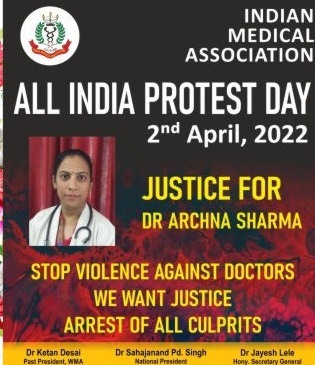 All India Doctors to protest on April 2; IMA for complete shutdown
Kanwar Inder Singh/ royalpatiala.in
In protest against the suicide of Dr. Archana Sharma, the doctors at all India level will boycott their work tomorrow, Saturday, April 2. Work will be boycotted from 7 am to 7 pm.
Dr. Archana Sharma committed suicide in Dausa, Rajasthan. She was working as a gynecologist at Anand Hospital in Dausa, Rajasthan. On March 28, a pregnant woman died during delivery in the hospital, after which the relatives of the deceased woman filed a murder case against Dr. Archana and her husband.
Female doctor Archana Sharma had come into depression due to this. The very next day after the incident, he committed suicide by hanging himself in his Dausa residence.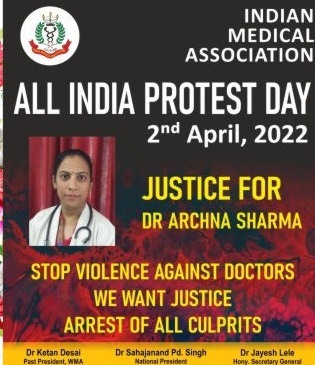 In a one-page suicide note, Dr Sharma had written in Hindi, "I love my husband and children very much. Please do not trouble my husband and children after my death. I did not commit any mistake and did not kill anyone. PPH (postpartum hemorrhage) is a severe complication, stop harassing doctors for it this much. My death may prove my innocence." "Don't harass innocent doctors, please," she added.
Dr. Archana completed MBBS from RIMS in the year 1998 and MD from Guinea. He was awarded the Gold Medal.
All India Doctors to protest on April 2; IMA ordered complete shutdown. Dr Paramjit Mann, president IMA Punjab said "show our strength and unity to the society so that no such incident happens in future. PMDTA , PCMS , IDA and ARD associations are also joining hands with us."
"To pay homage to the departed soul of Dr Archana Sharma, a peaceful Candle March will be held on 2nd April 2022, Saturday.The candle march will start from Children Memorial Chowk towards Fountain Chowk at 7:00 pm" said Dr Harsimran Singh, general secretary,  IMA Patiala chapter
April 1,2022