Punjab
Both Modi and Kejriiwal have RSS origin -Priyanka Gandhi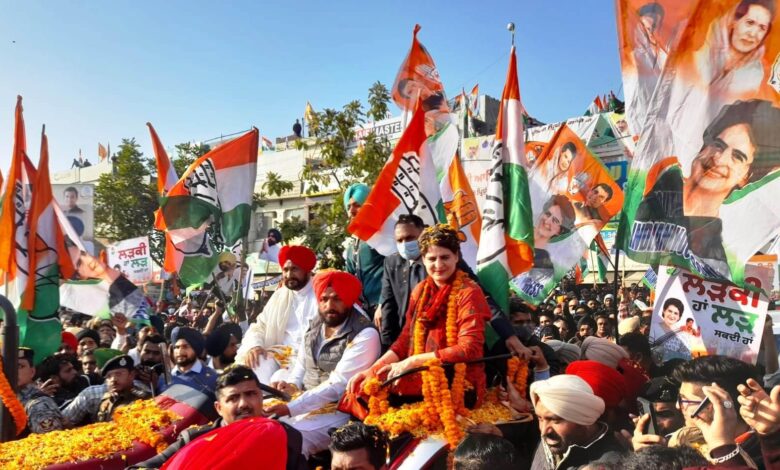 Both Modi and Kejriiwal have RSS origin -Priyanka Gandhi
Bahadurjeet Singh /Rupnagar
All India Congress Committee(AICC) general secretary Priyanka Gandhi Wadra has said that the Prime Minister Narendra Modi and Delhi chief minister had the same oRSS origin .
While addressing a gathering during a road show conducted in favour of  Congress candidate from Rupnagar Barinder Singh Dhillon here on Tuesday,Priyanka Gandhi Wadra said that  Bhartiya Janta Party(BJP) and Aam Aadmi Party(AAP) leaders were one and the same thing.
She said that Narendra Modi had promised to deposit Rs. 15 lakhs in the accounts of the people while Arvind Kejriwal had promised to provide Rs. 7 lakh .
She said that Gujarat Model  of BJP and Delhi Model of  AAP were failed models. "No body got employment, business opportunities  and  any help under Gujarat Model while neither any  hospital nor and educational institution was set up under Delhi Model",Congress leader said. adding that people must understand false propaganda in this regard.
She said that neither AAP nor BJP would new politics  in Punjab,which belonged to Punjabis,who would run the state and no outsider should be allowed to run the state.
Seeking to strike a chord with Punjabis, Priyanka Gandhi Wadra said that Punjab was place of her in-laws.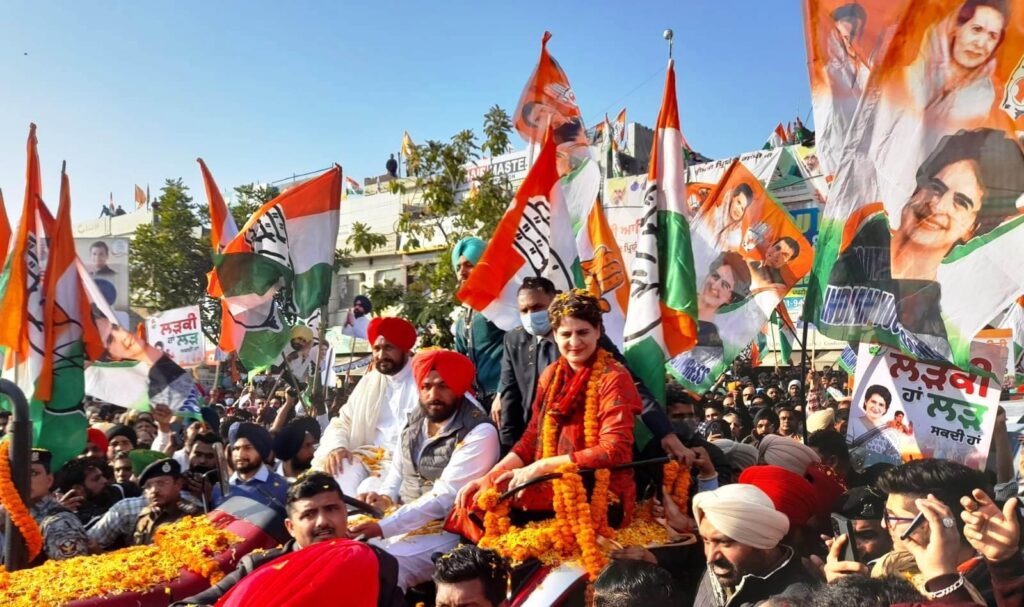 She appealed to the people to vote for Barinder Singh Dhillon to ensure his victory  from Rupnagar assembly constituency.
While speaking on the occasion Punjab chief minister Charanjit Singh Channi welcomed Priyanka Gandhi Wadra on her visit to Rupnagar district and Congress would won all the three assembly seats of Rupnagar district with big margin.
Barinder Dhillon also spoke on the occasion. Priyanaka Gandhi Wadra paid tributes to Dr BR Ambedkrar at Ambedkar Chowk and Shaheed Bhagat Singh. at Bela Chowk. She also paid obeisance at Gurdwara head Darnbr Kot Puran.
February 15,2022