Punjab
Chandigarh Administration celebrated 75th Independence Day at Parade Ground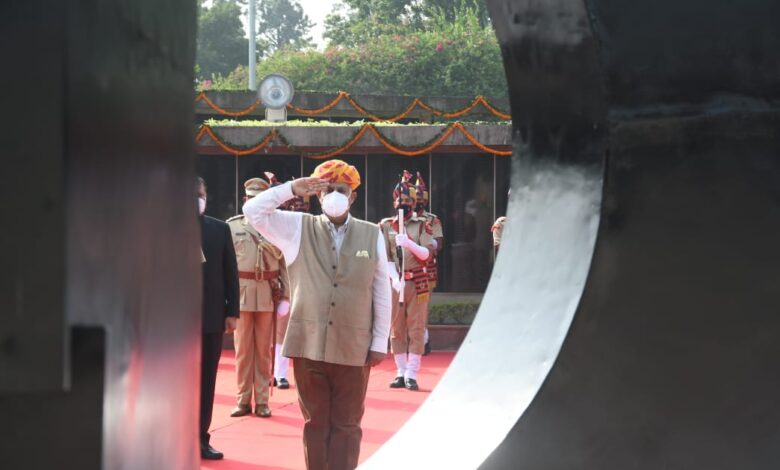 Chandigarh Administration celebrated 75th Independence Day at Parade Ground
Jaswant Singh Puri
Chandigarh Administration celebrated the 75th Independence Day at Parade Ground, Chandigarh. The Governor of Punjab and Administrator, Chandigarh, V.P Singh Badnore, was the chief guest of the occasion. The Administrator laid wreath at the War Memorial, Bougainvillea Garden, in memory of all members of the armed forces who gave up their life for the country.
The celebrations began at the Parade Ground where the Administrator unfurled the National Flag and inspected the Guard of Honour. This was followed by a March Past by various contingents of Police and NCC Cadets participating in the Independence Day Parade. While addressing the gathering, he remembered the martyrs and paid homage to the freedom fighters who sacrificed their lives for our Independence. Highlighting the key achievements of Chandigarh Administration, V.P.Singh Badnore appreciated the hard work and efforts of the officers for achieving success in diverse projects initiated for the betterment of the City.
The Administrator awarded commendation certificates to 111 employees of the Chandigarh Administration and general public for rendering outstanding services in the field of Public services, Art and Culture, Social Services and Sports. 1 Police personnel was conferred with President's Police Medal and 8 Police personnel were conferred for Administrator's Police Medal for their distinguished and meritorious services.
The Chandigarh Police received the overall best turn award in the parade and first prize in  the category of Military forces/ Police contingent, second position was bagged by Chandigarh Police Female I and Punjab Police I came third. In the category of Home Guard/ Fire Brigade/ Civil Defence, the first prize was bagged by Chandigarh Civil Defence, second position was bagged by Chandigarh Fire Services and Chandigarh Home Guard came third. In NCC contingents, NCC Boys bagged the first position, NCC Girls Army wing came second and NCC Boys Army wing came third.
Dharam Pal, Adviser to Administrator,  Arun Kumar Gupta, Principal Secretary Home,  Vijay Namdeorao Zade, Finance Secretary, Mandip Singh Brar, Deputy Commissioner,  Sanjay Baniwal, DGP Chandigarh and other senior officials of Chandigarh Administration and Police along were present during the function.
August 16,2021