Punjab
Cong workers stage protest against price rise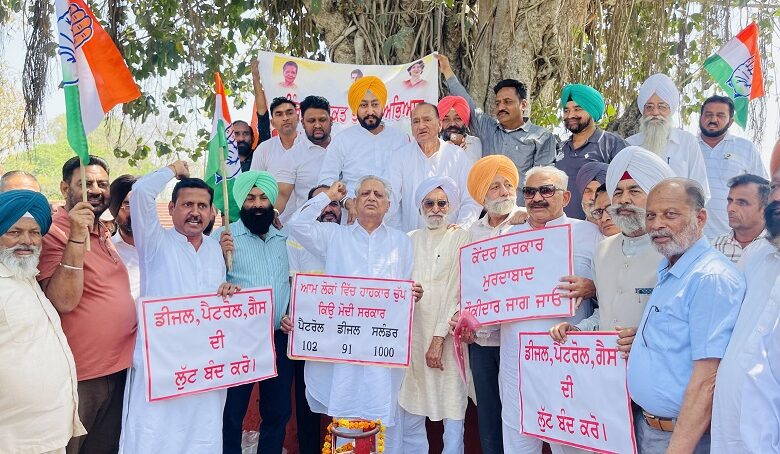 Cong workers stage protest against price rise
Bahadurjeet Singh /Rupnagar
Congress workers led by Former Punjab assembly speaker Rana KP Singh and District Congress Committee President Ashwani Sharma staged a dharna and  held demonstration at local Maharaja Ranjit Singh Bagh to protest against the price rise  in the country.
While addressing the dharna Rana KP Singh said that rising inflation in the country and the state had broken the backs of the common man and made life difficult for people from all walks of life.
He said that  due to the ever-increasing prices of petrol and diesel and in addition, the increase in toll plaza rates has had a huge impact on the pockets of the common man.
He said that rising prices of about 800 medicines and rising prices in the agriculture sector have also led to a double whammy of inflation. The people of the state are outraged over the rising inflation.
He urged the Prime Minister  to intervene in the affairs of the people so as to provide relief to the people who are constantly suffering from inflation.
The Dharna was addressed among others by Congress leaders Ashwani Sharma,Sukhwinder Singh Whisky,Ramesh Goyal,Surinder Singh Haripur,Gurinder Pal Singh Billa,Sukhdev Singh,Amarjit Singh Bhullar,Ashok Wahi,Jarnail Singh Kabarwal,Kamal Joshi,Bal Krishan Bittu,Jagnandan Singh ,Des Raj Saini Harminder Pal Singh Minhas,Ramesh  Dasgrain and Jagan Nath Bhandari.
Later on,Congress workers submitted a memorandum to Rupnagar SDM Gurwinder Singh Johal.
April 4,2022