Covid-19-Update
Punjab
Covid 19 vaccination drive-Punjab police officers showing keenness to get inoculated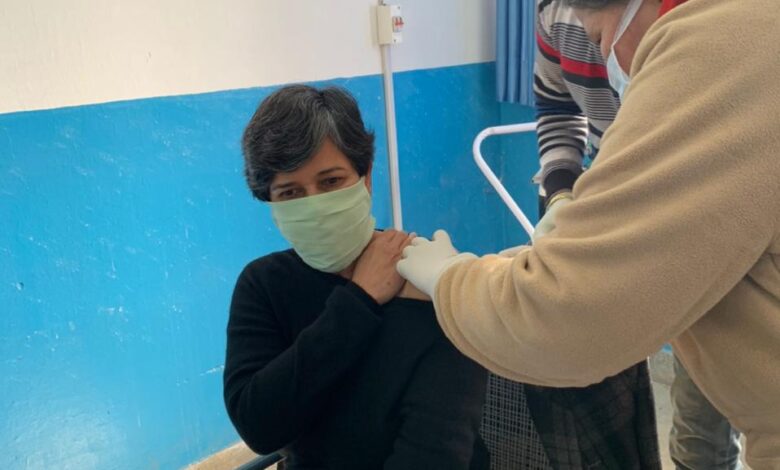 Covid 19 vaccination drive-Punjab police officers showing keenness to get inoculated
Kanwar Inder Singh/ royalpatiala.in
A day after Director General of Police (DGP) Punjab Dinkar Gupta volunteered to be the first among Punjab Police to get the COVID-19 vaccination jab, the drive has picked up momentum with 416 Police Personnel across the state getting inoculated on Day 2.
Additional Director General of Police (ADGP) cum Director Punjab Police Academy (PPA) Phillaur Anita Punj, Inspector General of Police (IGP) cum Additional Director PPA Yurinder Singh Hayer, IGP Faridkot Kaustubh Sharma, Commissioner of Police (CP) Ludhiana Rakesh Agrawal and CP Jalandhar Gurpreet Singh Bhullar besides 12 Senior Superintendents of Police (SSPs) of different districts were among the top brass to get the COVID-19 vaccine on Wednesday.
Notably, the Chief Minister Punjab Captain Amarinder Singh has launched the second phase of COVID-19 vaccination drive for Frontline Workers at Police Headquarters here on Tuesday, during which as many as 49 Police personnel including DGP, four ADGPs and other senior officials were inoculated.
DGP Dinkar Gupta once again urged the entire Punjab Police force to get inoculated with COVID-19 vaccine to protect themselves as well as the citizens of Punjab from COVID pandemic.
Meanwhile, to keep the force motivated, the Punjab Police have also started putting a digital badge— a virtual recognition by DGP Punjab, on the pictures of Police Personnel getting the jab.
February 3,2021