Education
CUPB VC Prof. Raghavendra P. Tiwari pays obeisance at Sri Harmandir Sahib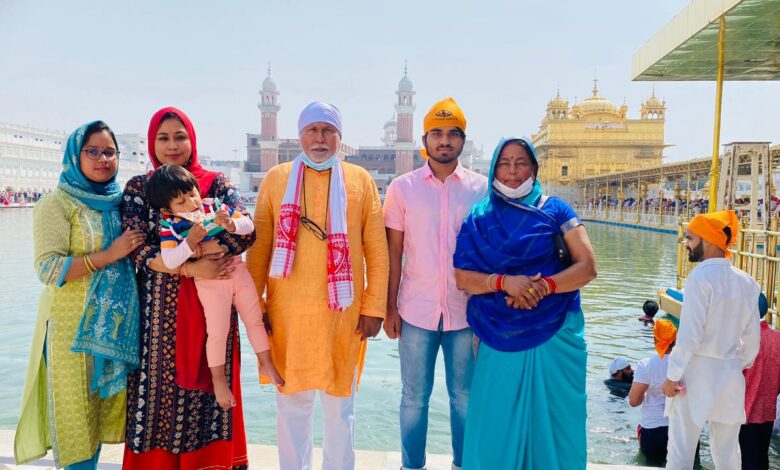 CUPB VC Prof. Raghavendra P. Tiwari pays obeisance at Sri Harmandir Sahib
Kanwar Inder Singh/ royalpatiala.in
Prof. Raghavendra Prasad Tiwari, the Vice Chancellor of Central University of Punjab, Bathinda (CUPB) paid obeisance at 'Sri Harmandir Sahib, the Golden Temple, Amritsar' on Sunday
. He bowed to the holy land and made ardas at the sacred place on the occasion of Sankranti.
During this visit, Jasbinder Singh Jassi, Chief Information Officer, Golden Temple, Amritsar briefed Prof. Tiwari about the history of Sri Darbar Sahib & Sikh traditions.
While interacting with Jasbinder Singh Jassi, Prof. Tiwari shared his vision to promote the rich culture and heritage of Punjab. He stated that world should learn the message of truth, justice, compassion, brotherhood and oneness from the philosophy, teachings and sacrifice made by our Gurus. After the interaction, Chief Information Officer Jasbinder Singh Jassi honoured the Vice Chancellor with siropa.
It is pertinent to mention that Central University of Punjab under the leadership of Vice Chancellor Prof. Tiwari has established a Sikh History Section at University Library so that students from other states could know about the rich history of Sikh Religion. Additionally, the university has started a course on Punjabi Language for employees and students of other states so that they could learn Punjabi Language. Apart from this, university is putting all efforts for setting up of Chair on Sri Guru Tegh Bahadur Ji.
On this occasion, the Prof. Tiwari's family members  Karuna Tiwari,  Aakriti Tiwari,  Namrata Tiwari,  Rahul Tiwari and Dhwani were present.
March 15,2021