Punjab
Dead fishes in Rajindra Lake; rejuvenation work completed-Administration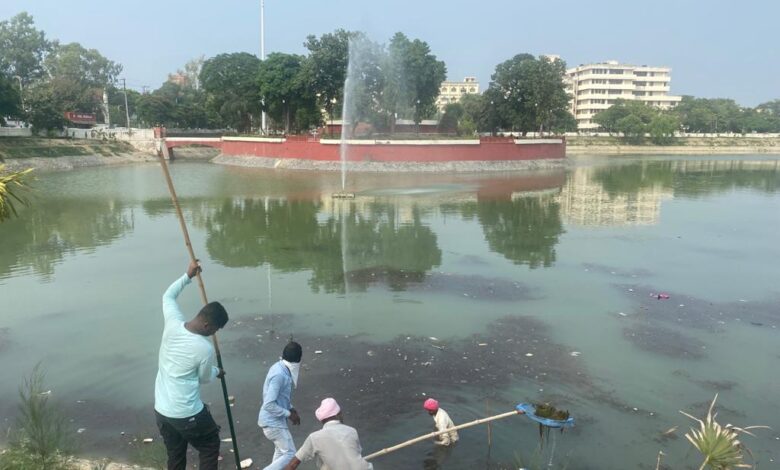 Dead fishes in Rajindra Lake; rejuvenation work completed-Administration
Kanwar Inder Singh/ royalpatiala.in
"Dead fishes in Rajindra Lake; rejuvenation work completed-Administration" said the district administration, after a number of fishes were seen floating in the Rajindra lake, on Kali Devi Temple side. As per available information, only one type of species found dead in the lake.  Workers deputed at the site by the departments concerned said many fish were removed after they were found died yesterday while more were found afloat today.
In a press communique released by district administration, Patiala stated that "work for rejuvenation of Rajindra Lake has been completed. Water in the lake is being continuously supplied by Drainage Department through Bhakhra Main Line (BML) Canal."
On the deaths of fishes in the lake, Pawan Kumar, Deputy Director, Fisheries Deptt said "being Canal water, some fishes might have come along with it. Further, due to the ongoing breeding season there has been increase in number of fishes in the lake but due to current humid weather conditions there is a low concentration of dissolved oxygen level in the lake water, which seems to be the probable cause of fishes being found dead."
Chief engineer Davinder Singh of Irrigation Deptt, said, "the fountains are running continuously which will provide aeration to the lake water. As suggested by Deputy Director, Fisheries Deptt., dissolved lime is being released in the lake water which will help in increasing the dissolved oxygen level and hence will result in revival of fishes."
On the cleaning of surroundings and lake, the spokesperson said "regular cleaning of garbage around the lake is being done by Municipal Corporation."
When tried to contact the Deputy Director, Fisheries Deptt, Pawan Kumar, to know the total number fishes found dead, how they will dispose off the dead fishes, is there any plan of the Fisheries department to put the fishes in the lake, so that water will remain clean from algae, he neither pick up the phone nor responded to the message.
As per available information, PWD, department was looking after the management of the lake as it was yet to be handed over to the Municipal Corporation.
Hard work of irrigation department paid off; fountains started in Rajindra Lake -Devinder Singh
July 17,2021