Punjab
Decorated Telangana cadre IPS officer from Abohar is new SSP of Patiala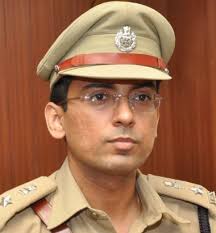 Decorated Telangana cadre IPS officer from Abohar is new SSP of Patiala
Kanwar Inder Singh/ royalpatiala.in/ Patiala
Punjab government has appointed a 2007 IPS officer of Telanagana cadre, Vikamjeet Duggal as the new senior superintendent of police (SSP) Patiala.
In a major reshuffle, yesterday, Punjab govt has transferred 12 SSP's in Punjab.
Presently, Vikramjeet Duggal, IPS, is SSP Amritsar (Rural), after the election commission appointed him as SSP Amritsar (Rural), in April, 2019.
Son of former Punjab police ASI Kashmiri Lal Duggal , Vikramjeet Duggal studied at Amrit Model School, Abohar  and later did his B.Tech in (Electronics and Communication). Vikramjeet Duggal took coaching at the Punjabi University IAS coaching centre and attended classes in New Delhi for the civil services exam. He topped the Central Police Force (Asst Commandant) Exam 2004 and was assistant commandant in the CISF. But , later he passed the Civil Services Exam 2006 with 124th rank and has been selected to the Indian Police Service and  got the Andhra Pradesh cadre in 2007 and served at various places, including East Godwari, Kadapa, Karimnagar as SP and later as SSP of Nizamabad and Vishakhpatnam. All through his career, Vikramjeet has prevailed upon more than 150 Naxalites and has successfully got them into mainstream life. Duggal has also helped many among them to secure jobs.
During his stint at Andhra Pradesh/ Telangana an International organisation — " International Organisation of Chief of Police", IACP — which is working to honour such police officers battling terrorism and securing help of common man to tackle it, studied Vikramjeet Duggal's works and selected him for "Home Land Security Award", which was conferred on him in America.
Even Vikram Jeet Duggal IPS received the "SMART POLICING AWARD for the best practices in identifying accident black spots through ACCIDENT RESOLUTION TEAMS (ART) comprising of various stakeholders/line departments. The award was given away on 31.05.2018 by the FICCI (Federation of Indian Chambers of Commerce and Industry) during Homeland Security Conference 2018, New Delhi."
The outgoing SSP Patiala, Mandeep Singh Sidhu has been posted as SSP Vigilanace. Sidhu a tough officer had a very fruitful stint as SSP Patiala. He cracked many cases, brought laurels to his police department and to Patiala, through his working. Residents of Patiala will miss his services .
July,31,2020