FAKE MESSAGE- Diwan Todar Mal Gate still exists in Fatehgarh Sahib ; No change in Gate name-DC
Kanwar Inder singh/ royalpatiala.in
Nowadays a fake message is viral on the social media about the change of the name of a commemorative gate at Fatehgarh Sahib from Diwan / Seth Todar Mal to Nawab Sher Mohammad Khan.
This FAKE message is circulated with some ulterior motives, by some mischievous persons to disturb the peace in Punjab. As a responsible News platform, royalpatiala.in team is brings in the true picture for its readers and for those who fall prey in these fake mongers nest.
When contacted the deputy commissioner of Fatehgarh Sahib, Parneet Shergill, she said " I have asked the SSP to look into it and book the culprits who is creating, spreading these kind of fake and irrelevant messages." She also appealed the public to ignore such kind of vague messages and maintain peace, harmony and brotherhood."
HISTORY OF FOUR GATES AT FATEHGARH SAHIB
In December 2005, the entire Punjab commemorated the tercentenary of the martyrdom of four Sahibzadas of Guru Gobind Singh –Sahibzada Ajit Singh, Jujhar Singh, Zorawar Singh and Fateh Singh and mother of Guru Gobind Singh Mata Gujari Ji
The two younger sons- Sahibzada  Zorawar Singh and Fateh Singh of tenth Sikh Guru, Guru Gobind Singh were buried alive at the age of 8 and 6 respectively in Sirhind (Fatehgarh Sahib) by Nawab Wazir Khan–the then ruler of Sirhind for their refusal to accept Islam as their religion.
Than Punjab chief minister Capt Amarinder Singh had decided to mark the tercentenary of martyrdom of Sahibzadas and Mata Gujri ji by constructing four Commemorative Gates at the entry points of the historic town of Fatehgarh Sahib, on the (1) Chandigarh-Fatehgarh Sahib Road, (2) Morinda-Fatehgarh Sahib Road, (3) Patiala-Fatehgarh Sahib Road, and (4) Madhopur Road.
These four Gates are dedicated to four brave personalities who crossing their religious lines showed their reverence to Guru Gobind Singh in their own ways .They are (1) Baba Banda Singh Bahadur, (2) Baba Moti Ram Mehra, (3) Diwan Todar Mal, and (4) Nawab Sher Mohammed Khan.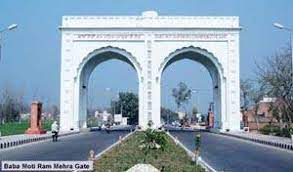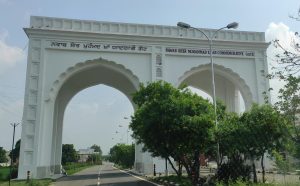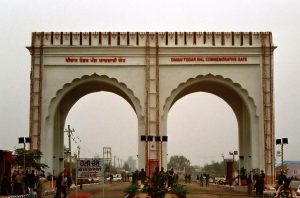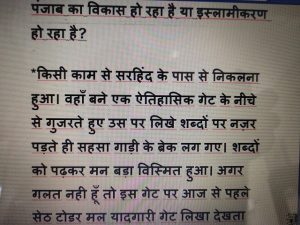 Baba Banda Singh Bahadur Gate-  He was a disciple of Guru Gobind Singh who after the death of Guruji in 1708 launched an armed campaign against Mughals and conquered Sirhind . He succeeded in establishing his independent rule over the eastern and southern Punjab. The gate at Chandigarh-Fetehgarh Sahib Road or coming from Mohali – Landran side has been dedicated to Baba Banda Singh Bahadur- the great soldier of Guru Gobind Singh. The Gate has been constructed by the Punjab Urban Development Authority (PUDA).
Baba Moti Ram Mehra Gate-It is located on Morinda-Fatehgarh Sahib Road and is named after Baba Moti Ram Mehra. He was the person who without caring for his life served milk to the two younger Sahibzadas and their grandmother Mata Gujri ji when they were kept in the so called Thanda Burj prior to their martyrdom by the Nawab of Sirhind- Wazir Khan.
Diwan Todar Mal Gate-The third Gate is located on the Patiala-Fatehgarh Sahib Road between the G.T. Road and Railway Over Bridge. This gate is dedicated to Diwan Todar Mal. He was a jeweler by profession and a courtier of Nawab Wazir Khan of Sirhind. Diwan Todar Mal bought a piece of land needed for the cremation of Sahibzadas and their grandmother by covering it with Gold Coins.
Nawab Sher Mohammed Khan Gate -The fourth gate is located on the Madhopur Road and has been named after Nawab Sher Mohammed Khan of Malerkotla. As per the history, when Nawab of Sirhind Wazir Khan asked Nawab Sher Mohammed Khan of Malerkotla  to take revenge of his brother's killing from the captured Sahibzadas of Guru Gobind Singh, he firmly turned down the offer and told the Nawab of Sirhand that his brother was killed in war with their father and these minors have nothing to do with his brother's killing. Sher Mohammad Khan is said to have expressed his anguish at the bricking alive of two young sons of Guru Gobind Singh, Zorawar Singh (aged nine years) and Fateh Singh (aged seven years), by the Subedar of Sirhind Wazir Khan. The 'Haa da Naara' or cry for justice was made by Sher Mohammad Khan before Wazir Khan when the order to brick the two young boys was pronounced.
FAKE MESSAGE- Diwan Todar Mal Gate still exists in Fatehgarh Sahib ; No change in Gate name-DC. These four Gates have been identically designed by the Department of Architecture, Punjab and made by PUDA, MARKFED and Ware Housing Corporation.
August 9,2022