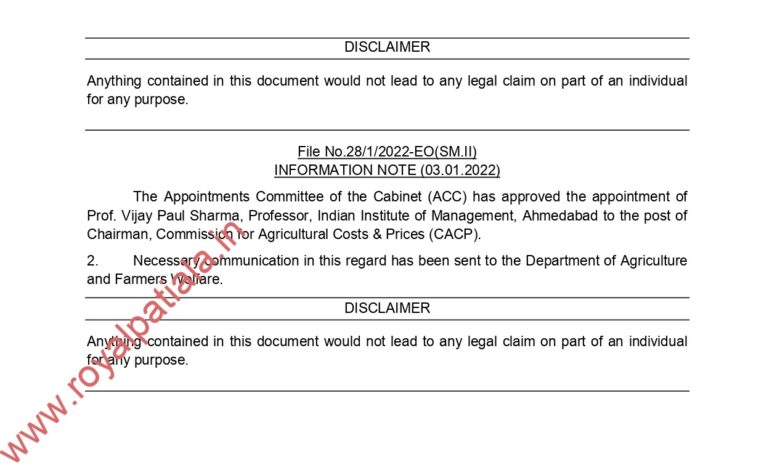 Farmers demanding MSP -Union govt appoints chairman of CACP
Kanwar Inder Singh/ royalpatiala.in
The ACC has today issue the appointment orders of Vijay Paul Sharma as the chairman of Commission for Agricultural Costs & Prices (CACP). He is again appointed as Chairman, CACP after he relinquished the post in May last year following completion of the five-year tenure.
The role of CACP chairman will be crucial in the proposed committee on the minimum support price (MSP) and other reforms.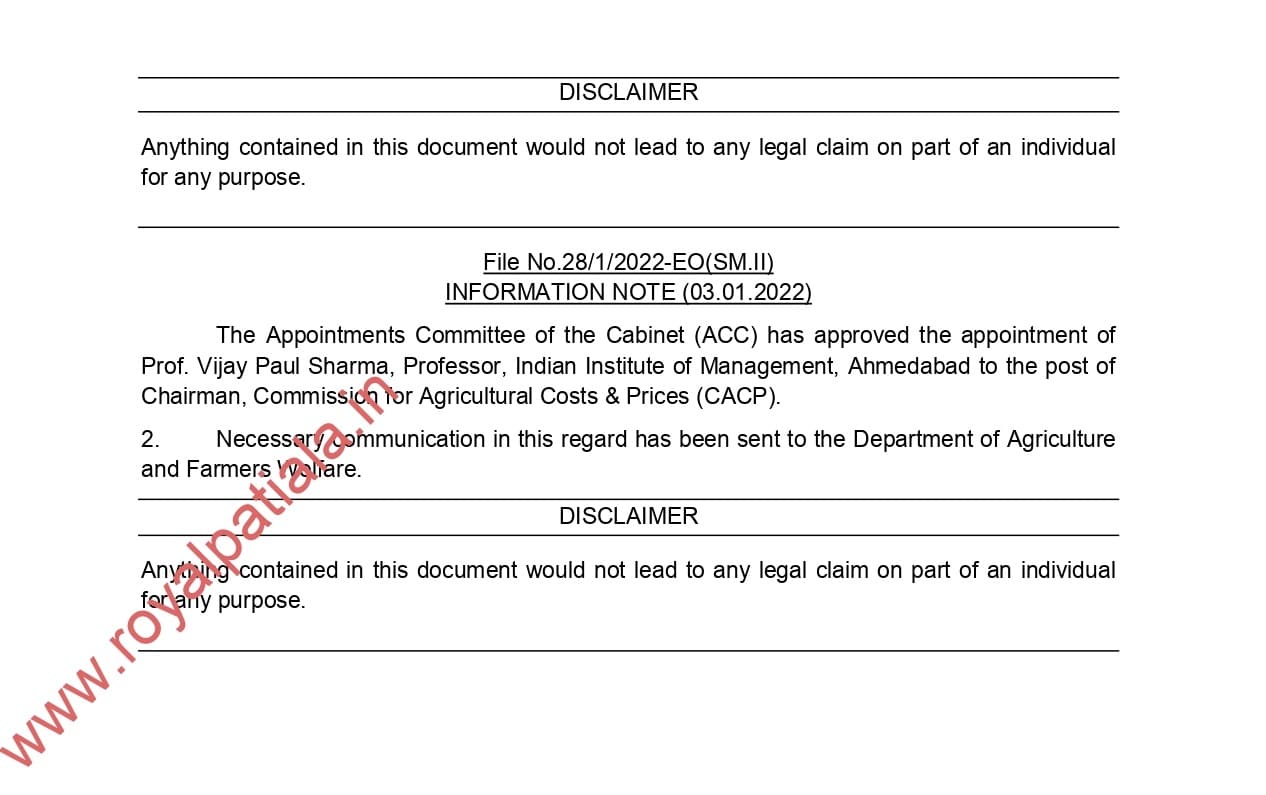 The government is yet to announce the committee on MSP and other reforms, as proposed by Prime Minister Narendra Modi during his announcement on repeal of the three farm laws. One of the key demands was legal guarantee of MSPs so that no farmer sells his produce below a benchmark, assuring him a minimum return.
Farmers demanding MSP -Union govt appointed chairman of CACP. Prof Sharma, a professor at the Centre for Management in Agriculture in Indian Institute of Management, Ahmedabad was first appointed as CACP Chairman in June 2016.
ABOUT CACP
The Commission for Agricultural Costs & Prices (CACP) is an attached office of the Ministry of Agriculture and Farmers Welfare, Government of India. It is mandated to recommend minimum support prices (MSPs) to incentivize the cultivators to adopt modern technology, and raise productivity and overall grain production in line with the emerging demand patterns in the country. MSP for major agricultural products are fixed by the government, each year, after taking into account the recommendations of the Commission.
As of now, CACP recommends MSPs of 23 commodities, which comprise 7 cereals (paddy, wheat, maize, sorghum, pearl millet, barley and ragi), 5 pulses (gram, tur, moong, urad, lentil), 7 oilseeds (groundnut, rapeseed-mustard, soyabean, seasmum, sunflower, safflower, nigerseed), and 4 commercial crops (copra, sugarcane, cotton and raw jute). CACP submits its recommendations to the government in the form of Price Policy Reports every year,
January 3,2022