Covid-19-Update
GoG playing key role in fight against Covid-19; will support administration relief operations: T S Shergill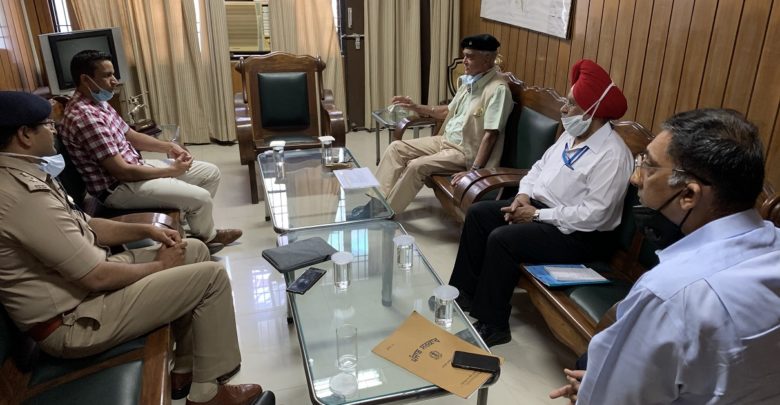 GoG playing key role in fight against Covid-19; will support administration relief operations: T S Shergill
Jasbir Kapoor/ royalpatiala.in/ Sangrur-Patiala
Lt: Gen. TS Shergill (PVSM), Senior Vice Chairman GOG and Chief Advisor to Chief Minister Punjab stated that the Guardians of Governance (GoG) are playing an important role in the war against Covid-19. He said that in wheat procurement and relief work, the GoGs would support to district administration in a very dedicated manner. He was speaking here today after presiding over a meeting with Deputy Commissioner, Shri Ghanshyam Thori, SSP Dr. Sandeep Garg and other officials of district Sangrur.
Lt. Gen. TS Shergill said that during the wheat harvest season and its procurement process, to ensure that farmers would not face any problem, the GoGs would be vigilant in the villages and if there will be any difficulty, they would immediately bring it to the notice of the government and district administration. "Covid-19 is a challenge for all of us and we have to conquer it with a sense of victory," he added.
He asked the GOG district chiefs to aware the people about Covid protection like social distancing and other required etiquette's. He said that people should be made aware of the necessary precautions to prevent the disease. He said that wheat distribution is going on in the districts through the public distribution system and Punjab government also releasing pensions and benefits of other welfare schemes. So, GoG should come forward to aware the people, he added.
Lt. Gen. TS Shergill further said that Online App has been further updated and made more secure where in the GoG can send their ground reports in more effective way. The reports are directly sent to respective SDM's, DC's and also to the control centre where the data is collated and reviewed by Hon'. Chief Minister. He said that this will make it possible for the government to resolve issues faster.
Speaking on the occasion, Deputy Commissioner, Ghanshyam Thori said that there are two covid affected patients in the district so for and adequate arrangements are being done to avert the threat of virus spread. SSP Dr. Sandeep Garg informed about there are solid arrangements has been made to prevent the movement of people from outside districts.
On this occasion, Karnveer Singh OSD to Shergill, ADC (g) Rajesh Tripathi, Col. (retd.) Dhanbir Singh Sidhu District Head GoG Sangrur were also present.
April,11,2020