Punjab
Good news for sports lover-5 lakh to all associations; CM to inaugurate 'Hall of Fame'
Good news for sports lover-5 lakh to all associations; CM to inaugurate 'Hall of Fame'
Kanwar Inder Singh/ royalpatiala.in
 Punjab Chief Minister Charanjit Singh Channi will soon inaugurate the Hall of Fame at Punjab Olympic Bhawan to showcase the achievements of Punjab in sports.  The inaugural 'Hall of Fame' will be held in the presence of all the medal / award winners and Olympians of Punjab.
This was stated jointly by the President of the Punjab Olympic Association and Minister for Local Government Brahm Mahindra and Sports Minister Pargat Singh after the meeting of the Executive of the Punjab Olympic Association here at Punjab Olympic Bhawan today.
The Sports Minister was felicitated by the Punjab Olympic Association.  Pargat Singh is the first Olympian to become the Sports Minister of Punjab.  On this occasion Brahm Mahindra also announced to make Pargat Singh the Patron of Punjab Olympic Association.
Addressing the meeting, Brahm Mahindra said that it was a matter of pride for the sports sector that a former Olympian was in charge of this department.  He asked the Sports Minister to increase the pension of former sportspersons, give them promotions on jobs and appoint them as coaches.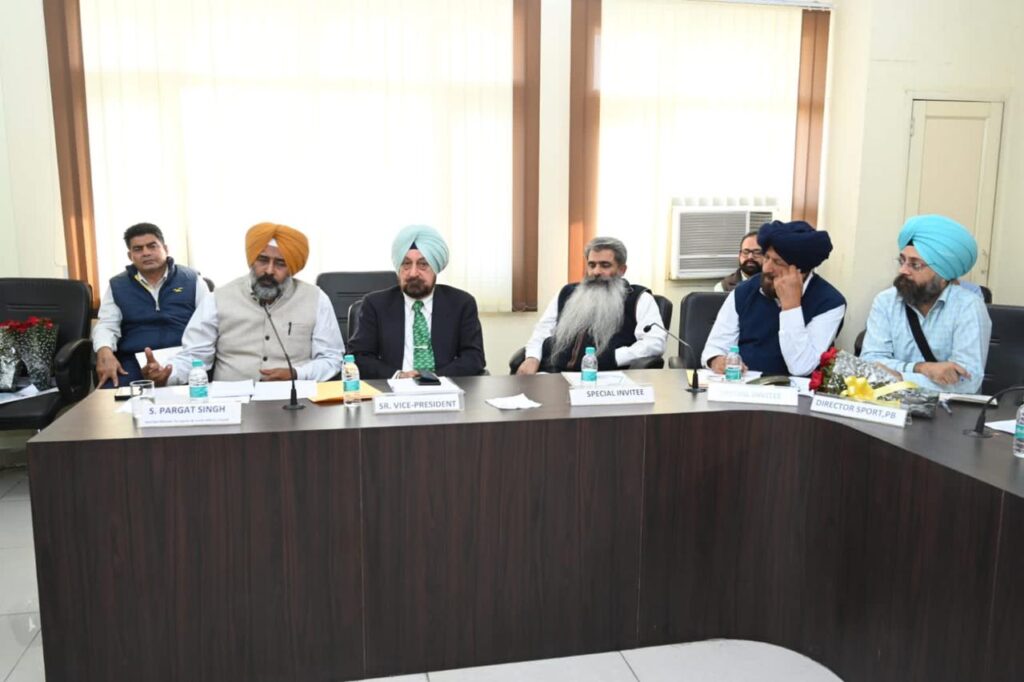 Sports Minister Pargat Singh announced that the Punjab Government would provide an annual grant of Rs. 5-5 Lakh To all Sports Associations and provision would be made in the budget so that grant continue for the associations every year.
Pargat Singh said that every sports association should have its own representative who should form a committee of experts on old players to give impetus to sports.  He called upon the sports department and sports associations to work together for the betterment of the sports sector.  He said that work was also being done to link sports and education department as the players were coming from schools or colleges.  He said that it has been decided to remove the condition of income limit on the pension given to the award winning and medal winning players.
Senior Vice President of the Association Rajdeep Singh Gill appealed to Pargat Singh who also has the education department to fix days for school children to visit the Hall of Fame to see the statues, pictures and achievements of the great sportspersons.
The Secretary General of the Association Raja KS Sidhu thanked the Cabinet Ministers Brahma Mahindra and Bharat Bhushan Ashu who were present in the meeting for providing a grant of Rs. 10 lakh from their discretionary fund.  He also lauded the initiatives taken by Sports Minister Pargat Singh.
In the meeting all office bearers of Punjab Olympic Association Kartar Singh, Sikander Singh Maluka, Teja Singh Dhaliwal, Rajinder Singh Kalsi, KPS Brar, Tara Singh, KBS Sidhu, Gurmeet Singh, Upkar Singh Virk, Maninder Kaur, Jasveer Singh, Upjit  Singh Brar and Deputy Secretary Sports Kirpal Vir Singh were present.
November 16,2021