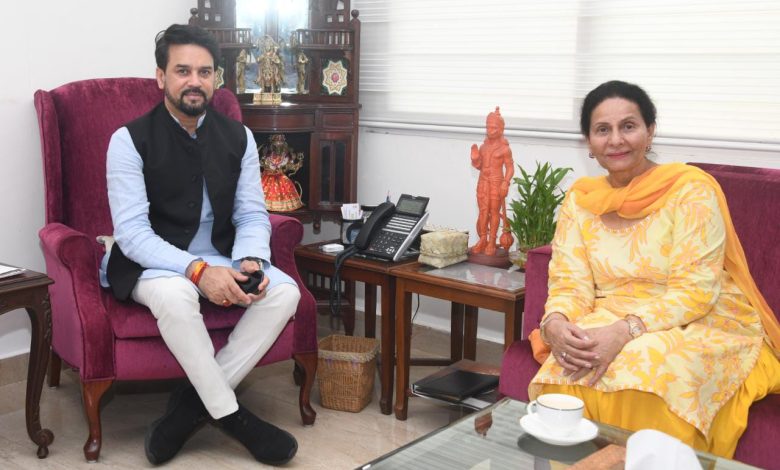 Grant for sports university -Preneet Kaur meets with Union Sports Minister Anurag Thakur
Kanwar Inder Singh/ royalpatiala.in
Today, member parliament from Patiala Preneet Kaur met the union sports minister Anurag Thakur at New Delhi and asks for a special grant of Rs 30 crore for infrastructural development at Maharaja Bhupinder Singh Punjab Sports University, Patiala.
Former chief minister of Punjab Capt Amarinder Singh has established Maharaja Bhupinder Singh Punjab Sports University, Patiala during his 2017-2021 tenure.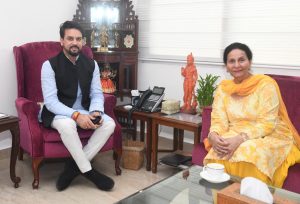 Recently, Vice Chancellor MBSPSU Lt. Gen (Retd.) JS Cheema ,  PVSM, AVSM, VSM( Retd). told the sports minister Gurmeet Singh Meet Hayer that the construction of the University was currently going on in full swing on Patiala-Bhadson road at Patiala, when he visited the construction site on July 29,2022. Two hostel blocks for girls and boys and one academic block are being constructed in phase 1. The Vice Chancellor brought out that the construction was as per schedule and at this rate the next academic session could start from the campus.
It may be recalled that the foundation stone of this prestigious Sports University was laid on October 25, 2020 by the then Chief Minister Capt Amarinder Singh as his flagship programme to promote education in the areas of sports sciences, sports technology, sports management and sports coaching. It will focus on education, training and research in areas related to sports based on high standard infrastructure, besides offering professional and academic leadership to other institutions in the field of physical education and sports sciences.
The university will also serve as a Centre of excellence for the elite and other talented sportspersons of all sports and innovations to carry out, endorse and propagate research. It will also generate capabilities for the development of knowledge skills and competencies at various levels in the field of sports technology and high-performance training for all sports and games.
August 4,2022