Covid-19-Update
Health
Install LEDs screen, CCTV cameras in Corona wards; Sidhu to Gian Sagar hospital authorities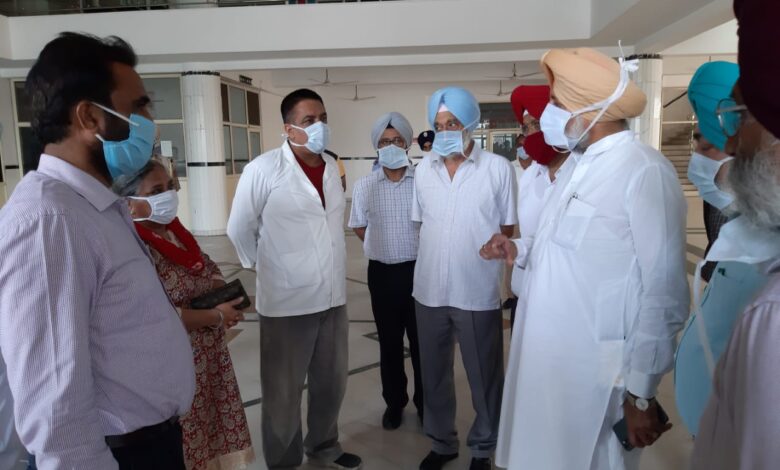 Install LEDs screen, CCTV cameras in Corona wards; Sidhu to Gian Sagar hospital authorities
Kanwar Inder Singh/ royalpatiala.in/ Chandigarh
Health and Family Welfare Minister Balbir Singh Sidhu while visiting the 'Covid Care Center' at Gian Sagar Hospital at Banur recently, reviewed all the arrangements and gave necessary instructions to the management of the hospital. He visited various wards of the hospital and learned about the treatment, food and accommodation facilities for the patients admitted in the hospital.
The Health Minister directed the management of the hospital to install CCTV cameras and LED lights in the wards so that the health of the patients could be monitored continuously and closely. He said that in order to fight this deadly disease, the morale of the hospitalized patients should be high enough for which religious and entertainment programs through television could be very helpful and may de-stress them. Sidhu said that cleanliness in all the wards was very important and any shortcomings would not be tolerated. He also asked the hospital staff to ensure full compliance with the guidelines issued by the government for the prevention of the disease.
The Health Minister said that the main reason for the increase in cases of the epidemic was the complete disregard of necessary precautions. In markets and other public places, many people are disobeying instructions regarding maintain social distance and wearing masks. He appealed to the people to go to the nearest health centre and get their test done as soon as any symptoms of COVID-19 appear. "Sometimes people arrive late at the health facility which makes their situation worse," he said. Sidhu said that the Congress government led by Chief Minister Capt. Amarinder Singh was fully committed to check the spread of this pandemic.
While the number of 'corona tests' is constantly increasing, Covid Care Centers are providing quality and streamlined facilities to the patients. He said that the cooperation of the people was essential for the prevention of this disease. Praising the doctors, paramedical staff and other health workers, he said that they have been fighting the disease with utmost diligence and dedication from day one and working day and night to save lives by risking their own lives.
Install LEDs screen, CCTV cameras in Corona wards; Sidhu to Gian Sagar hospital authorities. Harkesh Chand Sharma, Political Advisor to the Health Minister was also present on the occasion. OSD Dr. Balwinder Singh, Civil Surgeon Manjit Singh, the hospital Administrator Dr. A.S. Sekhon, Principal Dr. Kamaljit Singh, Medical Superintendent Dr. M. S. Goraya and other health officials were present on the occasion.
August,21,2020