Education
JGNDP Open University holds Platinum Jubilee celebrations for Independence Day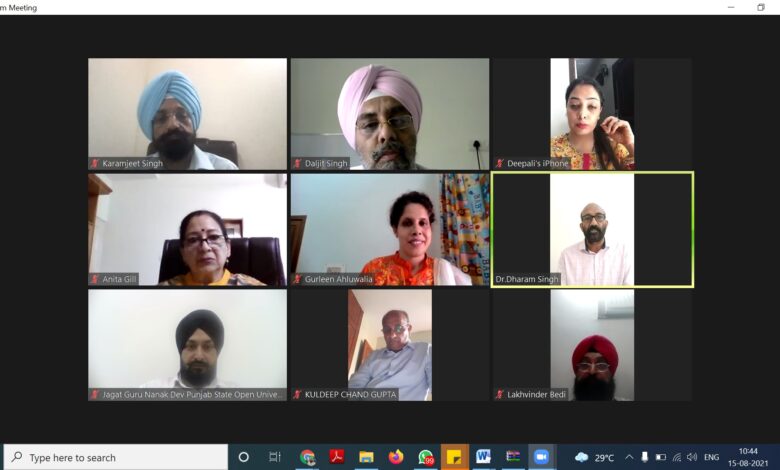 JGNDP Open University holds Platinum Jubilee celebrations for Independence Day
Kanwar Inder Singh/ royalpatiala.in
Jagat Guru Nanak Dev Punjab State Open University, Patiala the newly established State University, added glory to the 75th Independence Day celebrations of Punjab by holding 'Azadi ka Amrit Mahotsav' with patriotic fervour and great enthusiasm. The University under the visionary leadership of its founder Vice-chancellor Prof. (Dr.) Karamjeet Singh commenced the platinum jubilee celebrations with the playing of University Anthem.
The Registrar of the university Dr. Dharam Singh Sandhu welcomed the guests on the occasion. Recalling the sacrifices made by the martyrs, he expressed the nation's commitment to work towards realizing the dreams of our founding fathers. Furthermore, he exhorted the people of the nation to join their hands once again to free themselves from the menaces of pandemic, hatred and disharmony that may corrode their own roots.
Hoisting the National Flag, Chief Guest, Vice-Chancellor of the University, Prof. Karamjeet Singh urged the people of the Nation to unravel the knots of differences and march towards a united and peaceful nation 'Where the Mind Is Without Fear.' That would perhaps be the best tribute to the Freedom Fighters who laid their lives with a hope for their motherland India to live in the heaven of Freedom, equality and respect for all. Hailing the youth as the true wealth of a country, he said that the university will leave no stone unturned in equipping the learners of Punjab with skill-based education so that they can contribute in their best ways in the development of the nation.
To mark the 75th year of freedom from the cudgels of British rule, Dr. Daljeet Singh, Head Department of Punjab Historical Studies and Sri Guru Teg Bahadur National Integration Chair, Punjabi University, Patiala participated as the guest of honour and highlighted the contributions of Punjabi freedom fighters and especially the erstwhile princely state of Patiala in scripting the history.
JGNDP Open University holds Platinum Jubilee celebrations for Independence Day. Prof. Anita Gill, Dean Academic Affairs, extended thanks to the worthy guests, Staff and participants for making the event a resounding success. The celebrations of the event culminated with the playing of National Anthem and the waiving of tricolour.
August 16,2021