Health
Medicos who understand social responsibility along with official duties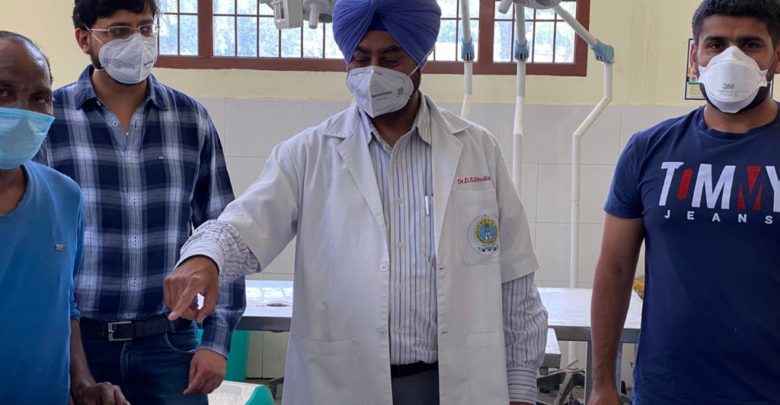 Medicos who understand social responsibility along with official duties
Kanwar Inder Singh/ royalpatiala.in/ Chandigarh
Dr DS Bhullar, a well known social activist in medical field, well recognises his social responsibilities along with official duties during the ongoing corona crisis worldwide.
The senior most forensic medicine specialist in Govt Medical College Patiala and a National Fellowship Awardee, he is Nodal Officer for shifting of the corona related dead bodies in Rajindra Hospital, who motivated hospital employees for shifting of such bodies as mortuary marshals who were panicky and reluctant for the job in the beginning and he himself is leading in the shifting process along with faculty.
After death of renowned sikh religious preacher Nirmal Singh whose family refused to accept his dead body due to corona death, Dr Bhullar got actively involved in awareness program about the wrong perception of contracting corona infection from dead bodies which had become a big challenge for the state authorities as people started refusing the dead bodies of their own relatives for corona fear.
Through his NGO Society for People's Welfare & Awareness, he contributed masks and sanitisers to more than 400 drug addict patients coming for their daily dose to Opioid Substitution Therapy Centre in Rajindra Hospital Patiala who otherwise are taken as ignored and ignorant class of society with weak immunity and hence more prone to ailments including corona.
Apart from this , he has displayed his NGO banners at all prominent points in Rajindra Hospital premises for creating public awareness against corona, prepared motivational videos for the doctors and the medical staff working in corona wards of the hospital.
Dr DS BhullarAs Program Officer of NSS Government Medical College Patiala Unit, he has called for public awareness by medical students to ensure use of face masks and physical distancing in the hospital premises and assist the needy visitors in the hospital during the corona periods.
With involvement of student volunteers, his NGO leader Dr Preetinder Chahal has started online registration of migrant labourers as a free service to the needy after noting that these illiterate, poor and helpless labourers were being compelled to pay money just for filling online registration to reach their states.
As a regular blood donor, Dr Bhullar has already donated blood more than 56 times.
The poor needy in my neighbourhood are welcome for any kind of help in my capacity and they are just satisfied from my meagre but timely help on humanitarian grounds.
It is mandatory for every government employee to perform official duties related to corona pandemic but one should also not forget the social responsibilities as well to help the needy at a time when the whole world is passing through the difficult times.
The only message to the public at this juncture is that the eradication of Corona crisis is all in the hands of people by taking proper precautions and abiding by the regulations being issued by the government time to time, says Bhullar.
May,11,2020