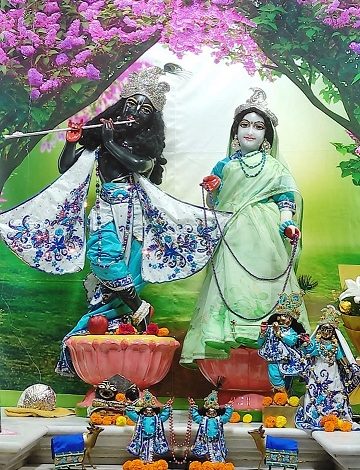 On Janmashtami ISKCON Chandigarh to host fascinating events
Jaswant Puri
"Although He is the Unborn and the Eternal, yet 5300 years ago, when all the planets were auspiciously placed and the atmosphere was permeated by an unearthly serenity and purity, the Supreme Personality of Godhead Sri Krishna appeared as the son of Vasudev and Devaki in the prison house of Kamsa , to deliver the pious and to annihilate the miscreants and to re-establish the principles of religion" said Akinchanpriya Das
paritranaya sadhunam
vinasaya ca duskrtam
dharma-samsthapanarthaya
sambhavami yuge yuge
(B.G. 4.8)
With his unfathomable sweetness and charm, the enchanter of all hearts, The Supreme Personality of Godhead Sri Krishna , better known as the butter thief , is all set to manifest His Divine Appearance on the midnight of 19th of August, 2022 (Sri Krishna Janmashtami: the celebration of the transcendental birthday of Lord Krishna).
Das added ,"this year, amidst all the despair and negativity owing to the global pandemic, world war like situation, it is even more important to invoke the blessings of the all merciful Supreme Lord so that He may bestow His mercy upon all suffering humanity. "
ISKCON Chandigarh will be Celebrating Sri Krishna Janmashtami on 19th August, 2022.  Devotees can take darshan and participate in the various events and get unbound mercy of the Lord.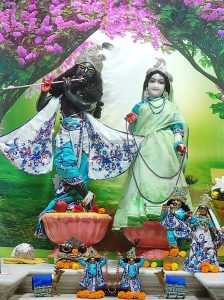 In order that devotees, donors, sponsors of various sewas may celebrate the festival with full enthusiasm, a host of fascinating events have been organised which include:
Special Darshan of Sri Sri Radha Madhav
Special Jhulan Darshan of Laddoo Gopal ji
Whole day ecstatic Hari-nama Sankirtan
Splendid Flower Decoration
Welcome the Lord of your Heart Sri Krishna by offering  Kalash Abhishek (bathing the deities with sacred liquids), which will be performed by you and your family personally.
Participate in Maha Deep Daan (Offering Arati to their Lordships).
Special contests for kids and adults which include Article/Poem Writing, Extempore, Painting/sketching, Krishna Book Quiz, Treasure Hunt, Film Making, Photography, Sloka Recitation etc, to be conducted by Bhakt Prahlad School and Iskcon Youth Forum.
Online Krishna Contest (Quiz on the eve of Janmashtami- 2022; Age: 11-15 Years)
Maha Abhishek and Maha-Arti at midnight, to witness the divine appearance of the Supreme Personality of Godhead, who fills the hearts of all the onlookers with immense pleasure and a feeling of relief from the miseries of material existence"
With their Lordships being dressed in beautiful outfits and decorated with splendid ornaments and fragrant flowers oozing nectar from every pore of their transcendental forms and amidst full day melodious kirtan and transcendental events, the participants can engage themselves in offering service to Sri Sri Radha Madhava thereby relishing great spiritual bliss and satisfaction in their hearts.
Iskcon Chandigarh extends its heartfelt invitation to one and all to participate in the celebrations of Sri Krishna Janmashtami- a series of activities to be webcast on Youtube Live, Facebook Live, Doordarshan, Fastway also. Please take advantage of the many wonderful opportunities to serve Sri Krishna on his Birthday at Hare Krishna Dham, Sector 36-B, Chandigarh.
August 18,2022