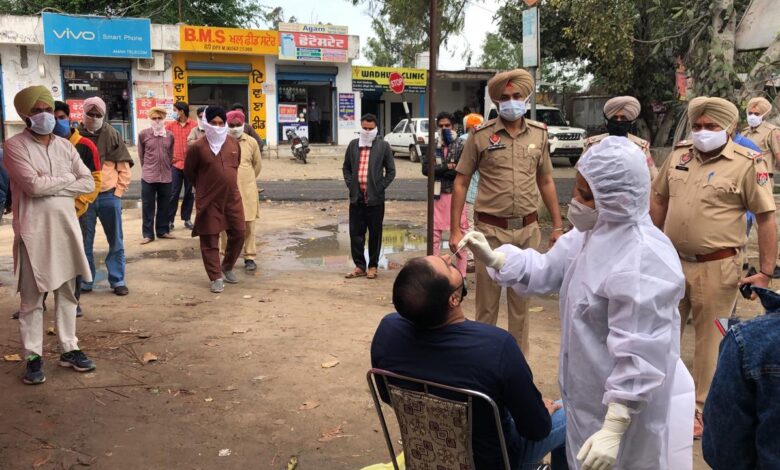 Patiala Police to outset Corona by penalising violators through on spot testing
Kanwar Inder Singh/ royalpatiala.in
Paying no heads to the Covid guidelines issued by Punjab government, health department, Patiala police, from time to time, the violators feel the heat. As of now, Patiala police has booked 918 residents for violating the covid norms and impounded 127 vehicles.
Senior superintendent of police (SSP) Patiala Vikramjit Duggal said "we had already established a district Covid Cell under the supervision of superintendent of police (headquarters) Dr Simrat Kaur and effectively handled the covid 19 pandemic, in the district. We are able to disburse 41,222 queries related to Covid 19. 2408 Patiala police personnels have already got the first dose of the Covid vaccination and 409 the second one g, as per the set criteria of the health department, for taking the jabs."
"In this second strain of Covid and as per the instructions given by the state government, Patiala police is making people found without face masks undergo on-spot Covid-19 tests and giving free masks to them. This task is being carried out by the newly constituted Mask Surveillance Teams (MSTs) enforcing compulsory of wearing face masks. Mask Surveillance Teams have been made, to direct all those roaming in public areas, and on the roads and streets, without face masks, to the nearest RT-PCR Testing Facility, and getting COVID tests done." added Duggal.
"In these two days, Patiala police got 2849 violators' Covid test done, for not wearing masks and out of these 7 persons tested Covid positive, for which the information is shared with the health authorities" said Duggal
Patiala Police to outset Corona by penalising violators through on spot testing. Duggal further informed that "Patiala police had already formed four mask surveillance teams (MST)—one each in Patiala, Rajpura, Samana, and Nabha—in addition to local area police for enforcing mask-related guidelines to prevent the spread of coronavirus, spreading awareness about the precautions to be taken in this pandemic through social media, print media from time to time."
March 23,2021