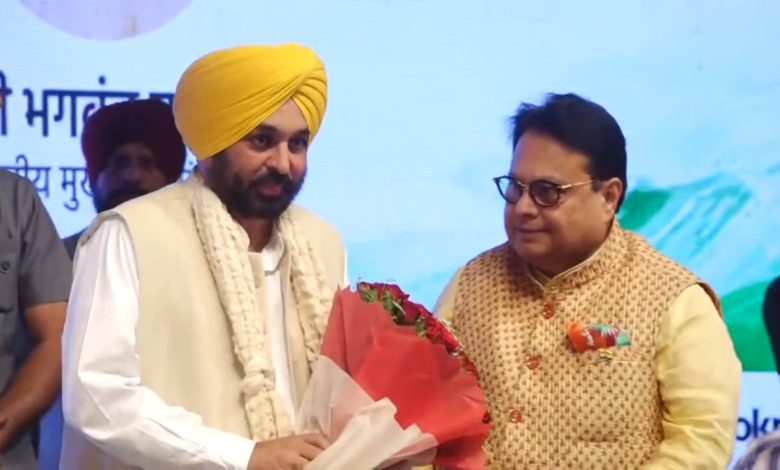 Punjab CM participates in Golden Jubilee Celebrations of Lokmat newspaper
Kanwar Inder Singh/ royalpatiala.in
Punjab Chief Minister Bhagwant Mann said that his government will take every step to restore pristine glory of state in every field. "We will give impetus to employment, sports and industrial growth besides eradicating corruption, unemployment, drugs and pollution from Punjab to make it a frontrunner state in country" said Mann on Sunday here during a function to mark Golden jubilee of leading newspaper Lokmat.
The Chief Minister said that his predecessors have looted the state mercilessly due to which the state once known for vigour of its sons in Army, sportsmanship of players like late Dara Singh and sweetness of its water has lagged behind. He said that due to negligence of previous governments drugs have made inroads in the state. However, he said that his government will reverse all these things and make Punjab a leading state in country.
The Chief Minister, while underscoring need for new employment opportunities, said that there is need to replace 'drug syringes' with 'tiffin boxes' to wipe out drug menace. He said that any  person who is gainfully employed carrying a tiffin box to his office won't have any time for drug syringes. Mann said that within 50 days his government has put the wheels in motion to provide government jobs to youth through a transparent, neutral and merit based mechanism.
Slamming the political parties for divisive politics, the Chief Minister said that the nation should unite against such tactics to divide the country. He said that the welfare and development based agenda as propounded by Delhi Chief Minister Arvind Kejriwal is the only weapon to stop the chariot of divisive politics. Mann said that it is the high time that countrymen must unite to wipe out the parties sowing seed of divisiveness in society.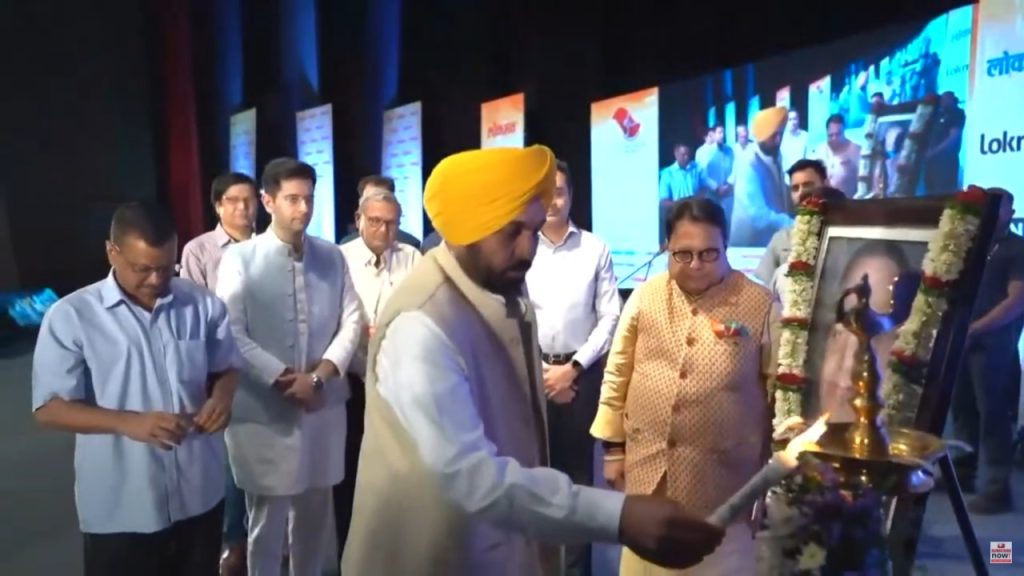 The Chief Minister said that the political parties that had ruled Punjab had looted it mercilessly even as compared to 200 years of British regime. However he said that Punjabis have given a whopping mandate to his government and they are committed to put the state back on high growth trajectory. Mann said that this mandate has brought lot of responsibilities also adding that he is fortunate enough to have guidance of Delhi Chief Minister Arvind Kejriwal who has proven expertise to fulfil such responsibilities.
The Chief Minister said that his government has already taken part breaking initiatives like anti-corruption helpline, one MLA one pension, financial assistance to farmers adopting direct sowing of paddy and others which will help in resurgence of Punjab. He said that many more decisions will be taken in coming days to ensure progress of the state and prosperity of its people. Mann said that no stone will be left unturned for this noble cause.
Congratulating Lokmat for its Golden jubilee, the Chief Minister hailed it for upholding the value based journalism. He said that press is fourth pillar of democracy and it must discharge its duty well to strengthen democracy at the grass-root level. Mann exhorted media to make people aware against the divisive political agenda of some parties.
Punjab CM participates in Golden Jubilee Celebrations of Lokmat newspaper. On the occasion Delhi Chief Minister Arvind Kejriwal, Rajya Sabha MP Raghav Chadha and others were also present.
Lokmat is a Marathi language newspaper published in Maharashtra state. Founded in 1971 by Jawaharlal Darda, it is the largest read regional language newspaper in India and the No. 1 Marathi newspaper in Maharashtra & Goa states.
May 8,2022