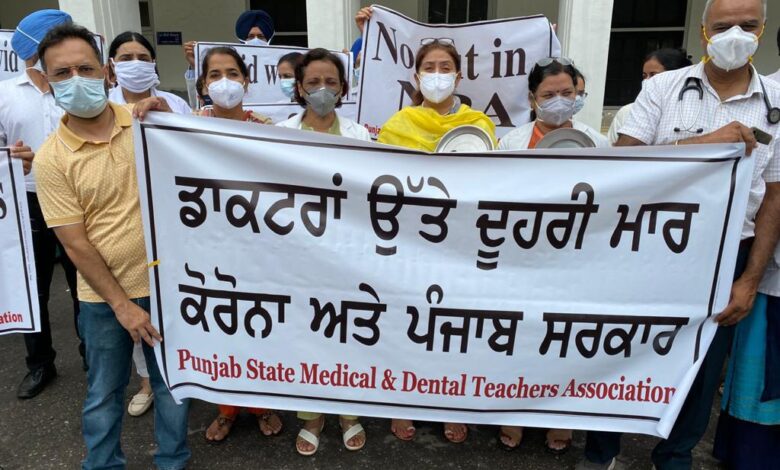 "Punjab govt either give or forgive us; we won't budge till genuine demands not met"-Doctor's ire
Kanwar Inder Singh/ royalpatiala.in
The medical dental doctors working in Government Medical and Dental Colleges in Patiala and Amritsar will continue their indefinite protest till the anomalies in the non practice allowance (NPA) are totally rectified and restored in the original form.
According to Dr DS Bhullar, state General Secretary of Punjab State Medical and Dental Teachers Association (PSMDTA) the association has categorically requested the Punjab Government at all levels (Group of Ministers and Committee of Principal Secretaries) that NPA of the state government doctors must be restored to the original 25 percent of the basic pay, linked to the basic pay as earlier and should be considered as part of the pay for calculation of Dearness and House Rent Allowance etc.
Further, the Academic Allowance of the doctors should also be restored and fixed at Rs. 2500 along with conveyance allowance of Rs. 2000.
Meeting of the Group of Ministers and Committee of Principal Secretaries (Finance, Health and Personal) of Punjab Government has been fixed on Thursday (July 22) at Chandigarh to discuss the demands of state government employees and hopefully NPA issue will also be decided in this meeting, said Dr Bhullar.
Meanwhile, Indian Medical Association Patiala with more than 700 Allopathic city doctors has also extended full support to the government doctors for rectification of the NPA anomalies as demanded by PSMDTA, said Dr Neeraj Goyal president of the Patiala chapter of Indian Medical Association.
July 21,2021