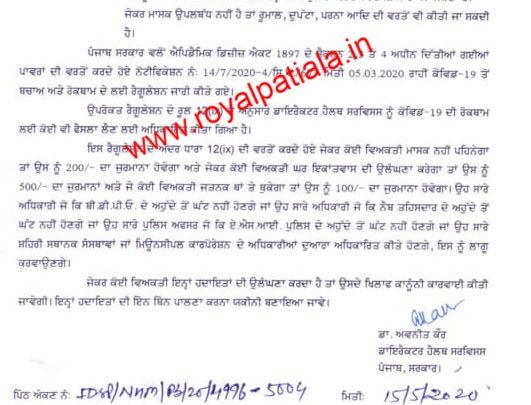 Punjab govt imposes fine for not wearing face mask in public places
Kanwar Inder Singh/ royalpatiala.in/ Chandigarh
Punjab chief minister Capt Amarinder Singh has already requested the residents of Punjab to wear face mask , whenever they move out from their residence, to avoid the spreading of Coronavirus. The govt from time to time also requesting the residents to follow the instructions, strictly.
Now, Dr Avneet kaur, Director Health Services Punjab has issues an order, making wearing face masks, compulsory, whenever anyone moves outside his residence.
She also declared that ,"who so ever found without wearing face mask will be fined of Rs 200/- . Along with this, if anyone found breaking his quarantine, he will be fined with Rs 500/- and if anyone found spitting in public, he will be fined of Rs 100/-"
Punjab govt impose fine for not wearing face mask in public places.She also authorizes BDPO and above level officer, Naib Thesildar and above, ASI's and above and all employees of local bodies department or MC's who are authorized to implement these orders in true spirits.
May,16,2020