Education
Punjabi University-a place of worship; converted into a garbage dump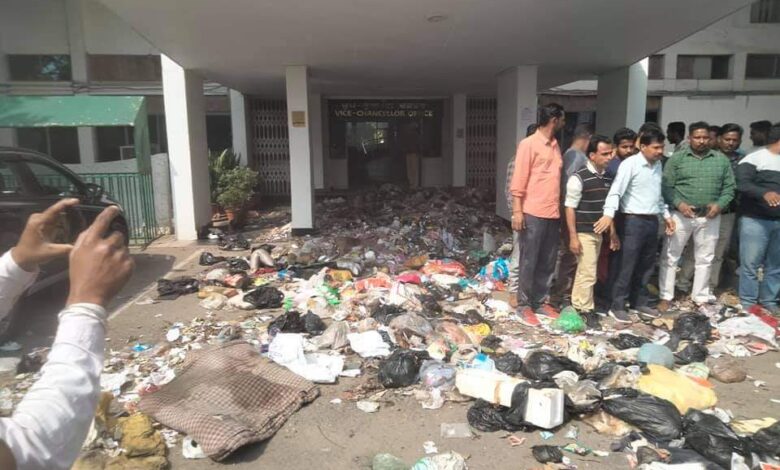 Punjabi University-a place of worship; converted into a garbage dump
Kanwar Inder Singh/ royalpatiala.in
Punjabi university punch line –Vidya Vichari Tan Parupkari seems to be just a tag line, in these days and have no relevance in today's time.
Punjabi University, a place of worship for lakhs of students, who are studying or studied here and have or trying to establish themselves in every field, in Punjab, pan India or abroad; were saddened to know about the incident that took place in the university campus. Safai sewaks of the university converted the university into a garbage dump.
In this spring season, university is famous for picturesque view. But, now adays all main offices -be it vice chancellor, registrar, dean offices, main gate, university campus has been converted into a garbage dump.
To press for their demands, safai sewaks dumped garbage outside the offices of the university officials' campus. They even threw the garbage up to the reception area of the vice chancellor and dean colleges offices. Later the security staff cleaned the reception area.
As per an official, on the condition of anonymity, "The authorities are in a tight spot as a syndicate meeting is going to be held on February 25 (Thursday) in the syndicate room. The syndicate room is in the vice chancellor's office block, which has now been converted into a garbage dump today. All the officers are busy in the syndicate meeting and this incident has created chaos in the university campus."
Kunal, a businessman, who had gone to the university for his routine work, couldn't find the staff in the branch. When he questioned the whereabouts, the staff said," we are sitting in other offices because we are unable to sit in our offices, due to foul smell emitting from the garbage. It makes us impossible to work in such condition".
When contacted the safai sewak union member Sandeep, he said" we had already informed the university authorities, about our demands. But they didn't pay any heed to our demands. "
When asked about the demands, he said "we want our members, on were on contractual, must be brought on daily wages and the university authorities must stop the practice of break in service for daily wagers. We have around 800-850 members, including those working the campus and its constituent colleges. We want those who are on daily wages must be regularized   "
"Punjabi University vice chancellor Ravneet Kaur IAS, who holds the additional charge; had come to the university campus only 3 or 4 times, after assuming the charge around three months ago" said Sandeep, in a reply to whether they had approached the VC or not .
When contacted the Registrar of the university Devinder Pal Singh Sidhu,he didn't pick up the phone.
February 23,2021