Education
Punjab's JGNDPS Open University added another feather in its cap; signs MOU with BAOU, Ahmedabad-VC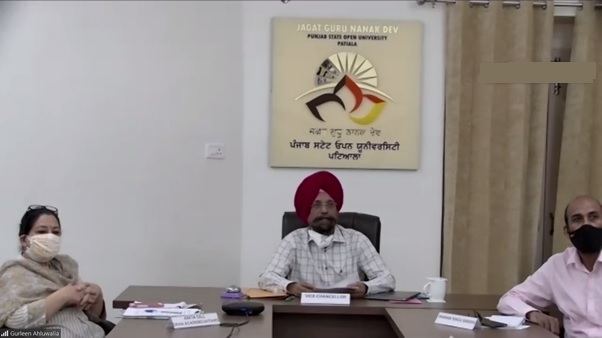 Punjab's JGNDPS Open University added another feather in its cap; signs MOU with BAOU, Ahmedabad-VC
Kanwar Inder Singh/ royalpatiala.in
Jagat Guru Nanak Dev Open University (JGNDPSOU), a newly established Open University of the state of Punjab has signed a memorandum of understanding with Dr. Babasaheb Ambedkar Open University, Ahmedabad, Gujrat. Prof. Karamjeet Singh, Vice-Chancellor, Jagat Guru Nanak Dev Punjab State Open University, Patiala said that the opportunities presented in this partnership will provide both students and staff tremendous prospects to enhance their academic and research opportunities. In a bid to establish a firm foothold in the academic arena, Punjab's open university is all set to make efforts to equip the learners with the skills they need to succeed in the workplace.
Bringing to fore the main advantages of entering into an agreement with BAOU, Dr. Anita Gill, Dean Academic Affairs said that the collaboration will allow generous exchange of information in the form of joint academic activities like designing and developing Massive Open Online Courses (MOOCs) for various programmes, access to reference material, preparation and publication of Self Learning Material (SLM). In addition to this, research activities will also be promoted in the form of joint publications and training programmes.
Underscoring the pedagogical benefits of sharing the resources, Professor Ami Upadhayay, Vice-Chancellor BAOU, Ahmedabad said "the agreement will give broader access to information and research and will help both the universities to spread their core missions to society as a whole.This partnership will explore and collaborate to support the development of innovative programmes". Endorsing the views of Prof. Amy, Prof. Dharam Singh, Registrar, JGNDPSOU said that BAOU has carved a niche for itself as a resource Centre for Open and Distance Learning with national recognition and presence. It is heartening to see that BAOU is providing seamless access to sustainable and learner-centric quality education and training to all by using innovative technologies and has collaborated with us to reach out to the unreached and to meet the demands of lifelong learning which has become more of a necessity in the knowledge society. Carrying the validity of five years, the partnership will democratize quality higher education to a large segment of the population and will contribute in enhancing the gross enrollment ratio of the country, said Dr. Karamjeet.
Punjab's JGNDPS Open University added another feather in its cap; signs MOU with BAOU, Ahmedabad-VC. The virtual MOU signing ceremony was attended by the directors of all the schools of  BAOU, Registrar, Dean Academic Affairs and Controller Examinations and the course coordinators of all the schools of JGNDPSOU.
May 28,2021