Punjab
Rupnagar police foil attempt to assassinate businessman of Kotkapura
Rupnagar police foil attempt to assassinate businessman of Kotkapura
Bahadurjeet Singh /Rupnagar
Rupnagar police have arrested a man accused of supplying illegal arms and recovered  seven pistols and  ammunition from his possession.
While talking to media persons Rupnagar SSP Dr. Sandeep Kumar Garg said that Rupnagar police had received information that Sarwant Singh alias Ricky, a resident of Sri Guru Tegh Bahadur Nagar Police Station,  Kotkapura, District Faridkot was involved in supplying illegal arms and he was going  towards the old bus stand from the NCC academy Rupnagar and was  carrying a black  bag.
He said that under the leadership of SP (Detective) Harbir Singh Atwal and DSP (Detective) Jarnail Singh, a team led by CIA staff in-charge inspector Satnam Singh apprehended the accused on the spot and asked for his name and recovered 4 pistols 32 bore.one pistol  315 bore,2 pistols 12 pore and 15  live cartridges from his bag.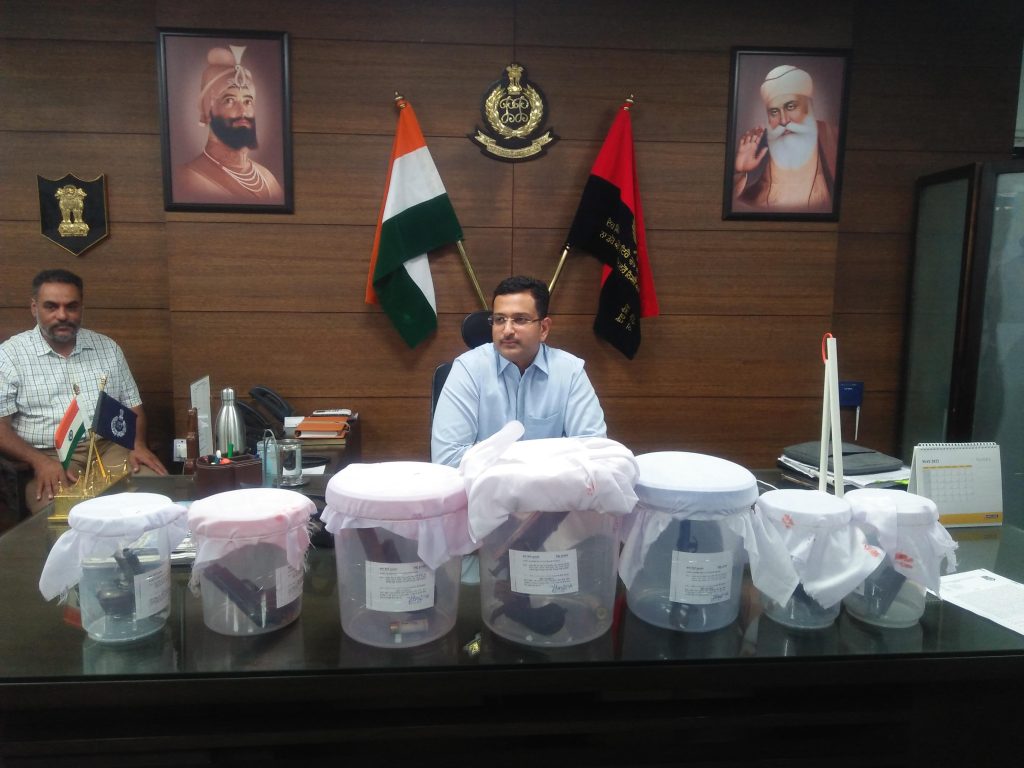 Dr. Sandeep Garg said that during the investigation, accused Satwant Singh made a sensational revelation  that he got the consignment of arms at the instance  of gangsters Jagdeep Singh alias Kaka, a resident of Hari Naun Road, Kotkapura and Sukhdeep Singh alias Tony, a resident of Bahmanwala Road, Kotkapura ,who are currently lodged at Central Jail, Patiala. , And these gangsters who are  already facing cases of supari killings ,had planned to assassinate a prominent businessman in his hometown Kotkapura
Rupnagar police foil attempt to assassinate businessman of Kotkapura . The planning was foiled by the timely action taken by the Rupnagar  police. SSP said that a case under section  25/54/59 of Arms Act has been registered against the accused at city  Police Station  Rupnagar. He said that gangsters Jagdeep Singh alias Kaka and Sukhdeep Singh alias Tony would also be named in the case and police would  interrogate them after taking their police remand from the court.
May 13,2022