Punjab
Sachin Goyal spoiled the atmosphere just to get Punjab police security for a status symbol; arrested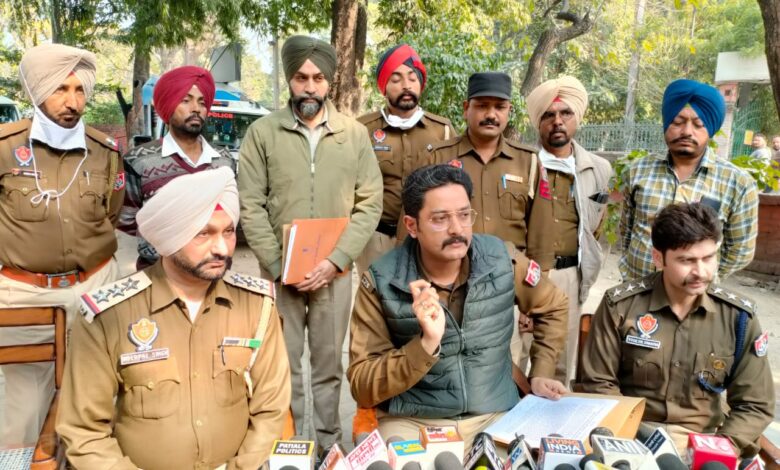 Sachin Goyal spoiled the atmosphere just to get Punjab police security for a status symbol; arrested
Kanwar Inder Singh/ royalpatiala.in
Patiala Police has arrested Sachin Goyal, who was trying to get security, by causing animosity, hatred and disturbing peace in different communities.
Vikram Jeet Duggal IPS, SSP Patiala said while releasing this press note that, Inspector Inderpal Chouhan SHO PS Kotwali, Patiala has registered FIR No. 54 Dated 16-02-2021 U/S 153-A (who attacks upon the religion, race, of any particular group or class) , 295-A (Whoever, with deliberate and malicious intention of outraging the religious feelings of any class of citizens of India, by words, either spoken or written, or by signs or by visible representations or otherwise insults or attempts to insult the religion or the religious beliefs of that class), 504 (Insult intended to provoke breach of the peace) , 505 (False statement. rumour, etc., circulated with intent to cause mutiny or offence against the public peace), 506 ( criminal intimidation), 419 (Whoever cheats by personation) IPC, 66 (D) IT Act 2000 ( Punishment for cheating by personation by using computer resource) at PS Kotwali Patiala against Sachin Goyal S/O Lalit Goyal President Rashtriya Akhil Bharatiya Hindu Seva Dal R/O  House No. 64 Mathura Colony Patiala.
Duggal further said that Inderpal Chouhan SHO PS Kotwali, Patiala along with the Police party were present near Chhoti Nadi Pul Sanour Road, Patiala in connection with the search for the suspects and bad characters.
The informant informed that Sachin Goyal S/o Lalit Goyal is the President of Rashtriya Akhil Bharatiya Hindu Seva Dal and R/o House No. 64, Mathura Colony, Patiala, is an extremely indecent person.  As his father is president of Hindu Seva Dal, Sachin Goyal is fully aware of the ongoing bitterness in the society over all religions.
As a result, he contacted a foreigner through Social Media and asked for an OTP of a foreign mobile number to operate WhatsApp of that foreign mobile number on his mobile phone. Through which he posts photos of leaders of various Hindu religions, himself and senior Police officers, He edits the photos by making a cross mark on those photos and post them on social media using the names of banned extremist group to provoke general public. The real motive of this person is to get government protection for himself by spreading such false propaganda. For which he has also demanded security for his own protection.  Sachin Goyal's concealment of his  identity and his illegal activities are fueling animosity and hatred in various communities. He is disturbing the peace of the people.  A case has been registered against Sachin Goyal in this regard.
The Patiala Chief of Police appealed to the citizens of district Patiala to report such mischievous and misleading propaganda to the Police so that Peace and Law & Order could be maintained in the district. The accused will be remanded in police custody and interrogated in depth.
February 17,2021