Education
SSP Patiala impressed with the talent shown by Police DAV students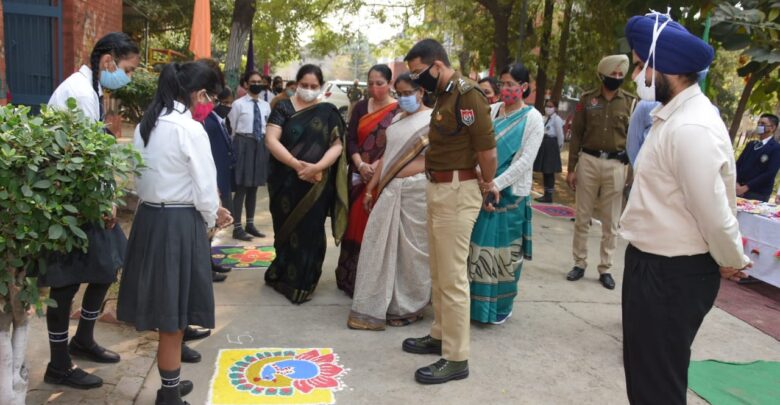 SSP Patiala impressed with the talent shown by Police DAV students
Gurjit Singh/ royalpatiala.in/ Patiala
SSP Patiala visited the Diwali exhibition at Police DAV Public School Patiala. Diwali is round the corner, so an exhibition was organised at Police DAV Public School Patiala at Police lines campus, wherein students displayed their creativities done during online competitions.
The chief guest for the occasion was  Vikramjeet Duggal ( IPS) SSP Patiala accompanied by  Navneet Bains (IPS) SP Headquarters Patiala.
Students displayed candles decorated by them of class 3 to 5 and explained the procedure to the guests. Duggal praised the young talented minds for their exhibition.Students of class 6 and 7 displayed diyas which they had decorated beautifully. Students of class 8 decorated thalis which won them accolades.
Duggal was spell bound by immense talent shown by the students.Students of class 9 to 12 made beautiful rangoli designs and won prizes. All these events were held by keeping in view the safety precautions and social distancing in lieu of Covid 19.
SSP Patiala impressed with the talent shown by Police DAV students.Certificates were handed over to the winners by  Duggal. While addressing the students, he laid importance on learning to the deepest and never shy  away from questions. Students should be curious to find answers and always introspect. He also motivated them that they must receive education from all places and
become useful members of the society.
On this occasion the school principal Meena Thapar thanked  Duggal for sparing his precious time and motivating the students. She also added that persons like him act as role models for students. She inspired them to always look up to such persons and follow their ideals.The function ended on an inspiring note.
November 12,2020