Education
To put Punjabi university finances on track; retired bureaucrat appointed as hony. advisor to VC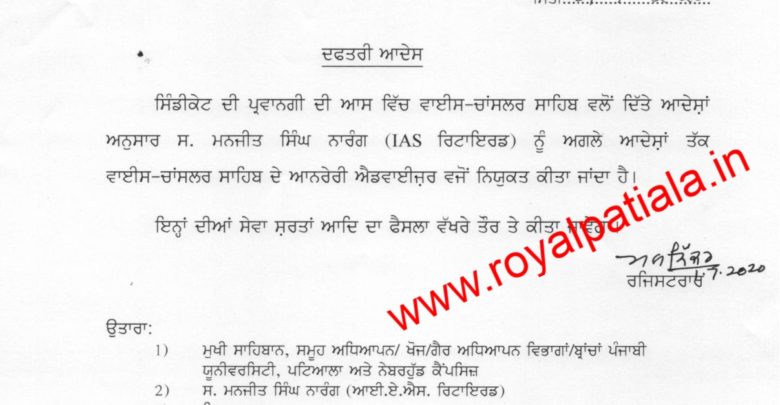 To put Punjabi university finances on track; retired bureaucrat appointed as hony. advisor to VC
Kanwar Inder Singh/ royalpatiala.in/ Chandigarh
Punjabi university Patiala today appointed Manjit Singh Narang (IAS) retired as honorary advisor to vice chancellor Prof BS Ghuman Patiala.
In an order issued by Registrar of the university " with the hope to get permission from the syndicate,  Manjit Singh Narang (IAS) retired has been appointed as honorary advisor to vice chancellor. Terms and conditions about his services, pay, perks etc will be declared separately."
"Presently Punjabi University Patiala is passing through a tough phase. Govt has not given any suitable grant, university has not received scholarship amount, faculty, pensioners, employees are not getting salaries on time, university is gripped in severe financial crisis since the past several years. To cope up with the situation, the government might have thought to bring out Punjabi university from financial mess and appointed a bureaucrat. It seems that VC will now concentrate on academics, admissions, results and newly appointed hony. advisor will look into the financial, revenue generation, to bring grant from the government" said an employee of the university.
Manjit Singh Narang , a retired bureaucrat is known for his commitment towards his work. He remained a dedicated officer. He is known for implementing new ideas and properly supervising of whole system from bottom to top. Working as managing director Pepsu Road Transport Corporation (PRTC), he revive the old glory of the PRTC and made it a profit earning corporation from a debt ridden corporation
July,1,2020