Punjab
Transport officer reviews Tricity issues; school buses permitted to ply in Mohali district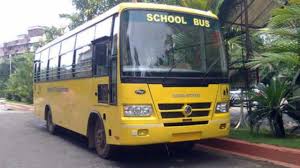 Transport officer reviews Tricity issues; school buses permitted to ply in Mohali district
Kanwar Inder Singh/ royalpatiala.in/ Chandigarh
A meeting on Transport issues of tricity was, under the chairmanship of Manoj Parida, Adviser to the Administrator in the presence of A K Singla, Secretary Transport, Chandigarh, K Shiva Prasad, Principal Secretary Transport, Government of Punjab, Umashanker, Additional Secretary, Transport, Shashank Anand, SSP Traffic and Virender Singh Dahiya, Additional Secretary Transport , Government of Haryana and other senior officials of Chandigarh Administration.
Firstly the issue of exemption of payment on State Road Tax on tricity busses was discussed wherein both the States have agreed in principal regarding exemption of tax. This was a long pending issue for UT. The UT was not charging road tax on other States Transport Vehicles but it was force to pay to Haryana.
Further a proposal to mutually allow additional 500 CNG autos for entry in Chandigarh from Punjab was agreed in principal. Now 1000 CNG autos each from Chandigarh, Haryana and Punjab will be allowed movement on reciprocal basis in the tricity area. Parida said such Green Vehicles will also be encouraged. The data of all these autos will be shared by all three authorities amongst themselves for Police Checking. Chandigarh has also requested Haryana Government to open more CNG pumps in Panchkula to reduce the crowd of autos at CNG pumps of Chandigarh.
Moreover, Punjab Government agreed to the proposal of UT Chandigarh regarding permitting the school busses from Chandigarh to the entire district of Mohali, instead of only Mohali City limits.
Lastly it was also decided to form a committee at Director level of all the states to look into the issues of entry fees of Ola and Uber cabs in Chandigarh and about having uniform speed limits on the artery roads connecting to Chandigarh.
February, 12,2020